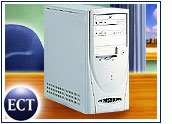 Judging by bids on eBay and postings on craigslist, the market for slightly used PCs appears to be sizzling. Many almost-new computers are sold for what seem to be highly favorable prices, compared with buying a new PC direct from the manufacturer.
However, would-be buyers face several of the same pitfalls inherent in buying used cars. They do not know if the machine has been to hell and back or just used for quiet computing on Sunday mornings. Worse, buyers do not even have the luxury of asking for a test drive.
How can buyers know if they are getting a sweet deal — or if they will be dealing with a lemon?
Know the Risks
As anyone who has bought a computer lately knows, PCs have a high rate of depreciation. Like cars that begin depreciating as soon as they zoom away fromthe dealer's parking lot, today's expensive computers could be cheap tomorrow. This is a major advantage for anyone willing to take the next best thing or even the next next best thing.
Although eBay and craigslist are very popular, buyers should beware of deals that seem too good to be true. Sadly, they sometimes turn out to be more junk than joy. Entering into a transaction with eyes wide open may prevent frustration later on.
Buyers should go into a deal knowing the risks. Although a computer should be tested for maximum reliability, there is still a chance that its hard drive is at the end of its life cycle or that one of its other components is due to wear out soon.
Sean Murphy, cofounder of systems and software provider Optimus Solutions, told the E-Commerce Times that buyers need to understand that computers have a multitude of moving parts. Although this fact might seem obvious, people may not grasp its importance.
"Things degrade over time," Murphy said. "Look at tape drives, for example, which have a definite life cycle. Understanding how the components of a PC age can help buyers make more informed decisions."
Guardian Angels
Although buying a computer from Joe in Montana via eBay may get you a good price, sometimes it is nice to have more assurance that a product is bonafide. That may mean going to a company rather than an individual.
The Association of Service and Computer Dealers International requires businesses that refurbish computers to stand behind their products or risk being frowned on by the association.
"The dealers who are in the Association operate by a code of ethics," Murphy said. "They're the most reputable dealers in the industry. There are some vendors that have been doing bad things out there, but they get shaken out quickly."
Test Subjects
Because the public's perception of refurbished equipment has been sketchy in the past, dealers are working especially hard to keep their image polished and draw more budget-conscious customers.
"Perception of quality has been a problem," Murphy said. "But that's why you do good testing — to change that perception."
Mike Ross, vice president of technology investments at Relational Funding Corporation, told the E-Commerce Times that part of his job is to help organizations dispose of their used assets.
The best way to keep the equipment out of landfills is to do comprehensive testing, he said.
"You want to make sure that whoever is selling the PC has done roadtesting," he explained. "There are diagnostic tools and software for data destruction, and discussion of how the PC has been tested should be part of the buying process."
Get It in Writing
Ross suggested that buyers obtain a guarantee, in writing, of the hardware's quality. Although eBay is attempting to perform extensive antifraud control, it is still important for buyers to be vigilant about protecting themselves.
He also noted that a buyer should ask about how a particular machine has been tested, how the data on it has been wiped, and whether or not any antivirus protection has been added.
The analogy that a used PC is like a used car is an apt one when asking for guarantees as well. Just as a buyer would inquire about repairs, mileage and damages, PC shoppers should know if a computer has been in the shop lately, and why.
As John Sheaffer, CEO of PC refurbisher and computer maker Sysix, told the E-Commerce Times: "Get a statement from the individual seller or the company. It's like a contract."
Despite the admonition to be cautious, potential buyers should not feel that the process of seeking used or refurbished equipment is fraught with too much hassle to be worthwhile. Quite the contrary, say many happy eBay customers. As long as buyers understand what they are getting and forge a good relationship with the seller, buying a used computer can be a happy — and budget-friendly — experience.
"There used to be a lot of people who would never think of buying used PCs," Sheaffer said. "Now, with this economy, everyone is looking for value and cost savings, and the used-equipment area is flourishing."