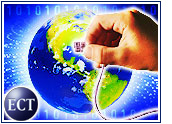 Although dial-up is still the dominant method by which most U.S. residents access the Internet, DSL and cable are making inroads toward winning the hearts and dollars of broadband-hungry consumers.
However, not all high-speed Internet providers are created equal. Customers must choose a provider on the basis of availability, rates, customer service and reputation, and that decision is not always easy, given the crowded provider marketplace and conflicting reports on review sites.
Some facts are clear, however, such as who the real contenders are and why they tower over other competitors. In the Internet access stack-up, which firms top the list?
Big Guns Only
Although small players do exist in the high-speed Internet access space, major providers are far from shaking in their boots in fear of scrappy startups.
Yankee Group analyst Matt Davis told the E-Commerce Times that 80 percent of broadband market share is held by companies that are already household names. He cited SBC, Verizon, Qwest and BellSouth as the top DSL providers and noted that Sprint also is making some progress in the race.
Among cable providers, the list includes Comcast, Time Warner, Cox, Charter and Cablevision. As Davis noted, "When we talk about market share, it goes to those carriers who [already] have lines deployed to the customers."
Incumbency Crucial
As anyone who has dealt with large companies likely knows, bigger does not always mean better. In the case of large providers, however, it may. Even if a smaller company were to offer superior service, it is doubtful that it could take on a behemoth like Time Warner or SBC.
As Forrester analyst Jed Kolko told the E-Commerce Times: "It has to do with being the incumbent. Since people overwhelmingly get broadband from cable, they go with their cable provider."
Sometimes another provider tries to muscle in, but such efforts tend not to last for long. "There are a handful of competing providers, but they haven't done well," Kolko said. "Look at someone like Covad. Companies like these usually end up doing partnerships just to stay alive."
Mixed Reviews
Because large companies are so established and need to compete with each other, they often have comparable levels of speed, reliability and customer service. Davis noted that there is not that much difference between, for example, Cox and Charter.
On the other hand, consumers may find flaws where analysts do not. On DSL comparison site DSLreports.com and on Epinions.com, broadband customers can weigh in with opinions about providers.
A perusal of those sites reveals it can be nearly impossible to pinpoint which provider is best, simply because reviews are so wildly divergent from each other.
On DSLreports.com, for example, one customer noted how SBC provided DSL service even as an ice storm pulverized his city. He wrote that the company's customer support is so "super-duper" that a rep calls him occasionally to see how he likes his service. He ended his review with a hearty "SBC ROCKS!!!!!"
In contrast, another customer of SBC stopped calling customer service because, he said, they wasted his time, insulted his intelligence and got him mad. The subject line of his review stated: "If you want a slow, unreliable connection with horrible tech support get SBC."
It's the Money, Honey
Although mixed reviews can make it difficult to determine which provider is speediest or most user friendly, consumers soon may notice some general trends in the industry.
Kolko noted that last summer and into this fall, cable providers increased their advertised downstream maximum speed from 1.5 megabits per second (Mbps) to 2 Mbps or 3 Mbps. He cited Cablevision as having a 3.5 Mbps downstream and 1 Mbps upstream — more than double the speed of DSL providers.
However, for most consumers, the decision about which provider to pick ultimately is not about services, speed or customer support. It is about cost.
"Price is a big factor," Gartner analyst Lydia Leong told the E-Commerce Times. "In many places, they aren't even able to get broadband, but in the places where it's available, usually it's the cost that drives competition."
Kolko agreed, noting that although early broadband adopters wanted speed, today's broadband adopters are more price-sensitive.
Feature Creatures
Leong noted that to stay ahead in the broadband race, many providers offer bundles to entice customers.
"You see all kinds of deals," she said. "If you get cable, you can have broadband for a lowered rate. That's very attractive to consumers."
Sprint is one company that has been aggressive in its quest to be a top provider, and its service offering is packed with extras. Tom Nelson, who manages Sprint's relationship with EarthLink, told the E-Commerce Times that the company continually tries to be the best by paying attention to customer requests.
"We know customers want a fast and reliable connection," he said. "But they also want some safeguards like parental controls and the ability to block spam. Those pieces are just as important as speed."
Amid such a competitive landscape, it is possible that high-speed Internet providers will remain in a close race for some time to come. That means that although consumers can and should perform due diligence, they ultimately may have to switch services to develop a true understanding of how high-speed providers stack up in their area.