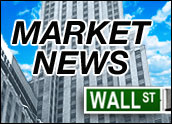 On-and-off worries about inflation seemed to be back on Wednesday as stronger-than-expected housing starts — measuring the number of residential units on which construction is begun each month — and industrial production levels during May sent the prices of Treasury notes sharply up and left stocks treading water.
U.S. Treasuries rallied on Tuesday, reaching their highest levels since 2001, after the May Consumer Price Index showed only modest core inflation.
But additional economic data stirred anew fears that interest rate hikes are imminent. The government said industrial production rose 1.1 percent in May, the largest one-month gain in nearly six years. Housing starts reached 1.967 million, meanwhile, ahead of most forecasts.
The Federal Reserve's beige book report on regional economic conditions, meanwhile, found an uptick in manufacturing activity in each of the fed's regional districts.
Looking Ahead
Unlike at the bond market, which is directly impacted by rates, stock-market investors seemed uncertain how to react.
The three major averages all traded in a narrow range throughout the day and finished mixed. The Dow fell 0.85 points to close at 10,379.58 while the Nasdaq gained 2.63 to finish at 1,998.23 and the S&P came to rest at 1,133.60, up 1.59 on the session.
The flat market is likely due to a barrage of sometimes conflicting data on inflation and mixed signals from the Federal Reserve Bank about interest rate hikes. Bond markets and overseas trading in the U.S. dollar have been particularly volatile in recent trading sessions, while stocks have moved relatively little.
Regular Trading Wednesday
In general, only companies that reported news saw their stocks move sharply in either direction during regular trading Wednesday.
Oracle lost 3.2 percent to close at US$11.33. The drop came after analysts honed in on weakness in the company's application business in an earnings report that saw record-high operating profits for the software firm.
Meanwhile, shares of Sprint tumbled 1.5 percent after the telecommunications concern said it would slash its workforce by 1,100 employees as part of a restructuring.