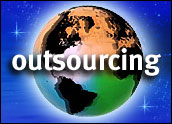 As the recession deepens and spreads across the globe, people have been asking themselves variations of the same questions: Can my company survive the recession? Can my industry? My home town?
Global outsourcers are no different. It might seem that this industry would have a degree of immunity from recessionary forces: After all, companies use outsourcers to cut costs and perform tasks that are not core to their operations. To a certain extent, that remains true. However, outsourcing industry dynamics have changed since the last recession. Outsourcers now perform far more sophisticated tasks for their clients than they did eight years ago.
Based in Mumbai, India, Patni is a poster child for this new generation of outsourcers. It provides IT services, product engineering services, business process and customer service outsourcing, as well as infrastructure management. It counts State Farm, Motorola, Coca-Cola and Fidelity among its clients.
Not surprisingly, outsourcing industry executives — including Patni CFO Surjeet Singh — are wondering whether these changes could make them more vulnerable to the global economic downturn.
E-Commerce Times: One of India's former stars in the outsourcing community — Satyam, of course — has turned out to be the perpetrator of a stunning financial fraud. Do you think the outsourcing industry is going to experience a backlash from the case, especially now, as firms are re-evaluating all sorts of decisions?
Surjeet Singh:
We all condemn what happened with Satyam — it was a terrible deception. That said, we believe it is an isolated case, something that could have happened in any industry, in any country. In general, these cases are more the exception than the rule. Also, CFOs need to play a stronger role in protecting shareholders and investors; auditors, as well, play a key role.
ECT: The recession that started in the U.S. is now, by most accounts, viewed as global. How do you think it will impact the Indian offshoring industry? By that I mean, do you think you will get more business from companies looking to cut costs? Or do you think you will lose business, especially some of the more expensive, value-add operations that many firms have begun offering on an outsourced basis?
Singh:
To answer that, first we have to look at how it has evolved over the last few years. Since 2001 or 2002, the Indian offshoring industry has significantly remade itself. We have established ourselves as mainstream business partners with global Fortune 500 customers. We engage in strategic decision-making with them; we are as significant as suppliers or customers. Whereas eight to 10 years ago, we were still seen as low-cost, low value-add providers.
ECT: What you are saying is that companies like Patni have become too important to their clients for them to cut back on your services or cycle out of them completely?
Singh:
I think we — meaning the industry — have become integral parts of Fortune 500 companies' operations and supply chains. We have moved up the corporate value chain, in other words.
ECT: But that still leaves you vulnerable to the recession — even more so, in fact, as more companies go out of business.
Singh:
Certainly, we are seeing evidence of the downturn here. It has become more global faster than previous downturns, and it is pervasive across many industries. Yes, we were bound to be impacted. But what I meant is that our value proposition is different than it was during the last global recession in 2000, and companies will be reacting differently regarding their outsourcing activities.
ECT: How does that factor into firms' decisions about outsourcing in the current environment?
Singh:
We are seeing companies take longer to make decisions about our services because they are more complex and focus on adding value as well cutting costs.
ECT: Ten years ago, outsourcing simple services to India and elsewhere — call centers, for instance, or data entry — was the low-hanging fruit for the outsourcing industry. By now, most firms have already done this or considered it, primarily for cost-cutting reasons. Do you see a new wave of business coming from companies that may have discarded this option before but now need to cut costs?
Singh:
Yes, I do think we will see that — if we haven't already. Companies are doing what they have to to get leaner and meaner in their cost structures.
ECT: Which will have the greater impact on the outsourcing industry: more firms turning to outsourcing for low-cost services, or clients taking longer to make a decision about the more expensive, value-add services outsourcers also offer?
Singh:
That is a hard question to answer. Some initiatives are being put on hold — there is no doubt about it. And equally as certain, some firms are getting new business as part of their cost-cutting measures. If I had to pick one, I would say while it is too early to talk numbers, there is a clear thematic global push to cut costs — and that translates into more outsourcing.
ECT: Do you see areas of growth in the near term, beyond firms seeking new ways to cut costs?
Singh:
I think we will see more penetration in the Asian markets. Some countries have not traditionally used outsourcers in this part of the world, and I think that will change. I also think there will be deeper penetration in existing accounts, as firms that were using outsourcing for value-add activities will also use them for more cost-cutting measures and vice-versa.
For instance, we are seeing customers that have set up their own captive centers overseas to leverage low-cost considerations — basically, they moved certain activities to new locations but kept their management in-house — beginning to outsource the management of those operations. They are realizing that the overall total cost of ownership is not as competitive as they initially thought, and they are re-evaluating those decisions — handing them over to outsourcers as long-term contracts. In fact, I think that trend will accelerate, as companies become more focused on costs as the recession continues.