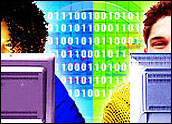 The familiar social media paradigm of "Listen … Learn … Engage … Earn" has a correlative imperative: "Publish or Perish," and enterprises probably need to find someone else to do the job for them. But be really careful about whom you select.
I've covered the specifics of B2B digital media relations and social media marketing in previous articles. Enterprises can set up corporate Web sites and microsites and push out multimedia news releases, articles, webinars, webcasts, podcasts, corporate blogs, RSS feeds and more. They can listen in on user-generated professional and personal blogs, wikis, Internet forums, newsgroups, message boards, bookmarking and detractor sites created by customers, critics and the world at large who've fashioned an online counter-reality for a company.
But just who will do the actual work on a day-to-day basis?
"Most large companies simply do not have the bandwidth to handle social media interactions themselves, especially social media monitoring and B2C community management," Gaurav Mishra told the E-Commerce Times. Mishra is the Yahoo Fellow in Residence at Georgetown University's Institute for the Study of Diplomacy. "Also, most companies don't have the skill set to design, code and run a social media marketing campaign. So most of them will outsource these functions in one form or another."
The challenge to the enterprise is in keeping track of the myriad details involved in utilizing all of these social media tools while controlling the process. The incessant demands for attention and action in social media outreach require a company to make significant commitments of time and money.
By 2013, according to Forrester Research, businesses will be spending almost US$4.6 billion on Web 2.0 tools — advanced Internet technology and applications like blogs, wikis, RSS and social bookmarking that promotes greater collaboration among Internet users, content providers and enterprises. In an April 2008 report, the research group forecast 43 percent annual growth in the social media market for so-called Enterprise 2.0, as organizations invest particularly heavily in social networks. The report includes survey results that suggest the world's biggest companies are the most interested in adopting the new technologies, with 51 percent of firms employing over 20,000 staffers either buying or considering buying Web 2.0 tools. The smallest firms showed the least interest, with just 33 percent of those under 100 employees either deciding to or thinking about purchasing Web 2.0 technologies.
Joining the social media marketing stampede now seems a nearly unavoidable business necessity. However, just whom should a company have do all the site building, optimizing, networking, publishing, sharing, linking, interacting, reaching out and monitoring required to implement an effective social media marketing program? Perhaps on-staff resources are available to handle the assignment, but outsourcing social media marketing, or at least portions of it, is the only realistic solution to covering the innumerable tasks that need to be performed on a regular basis. Whether a company chooses to outsource the job to offsite freelancers or social media marketing services firms, in order to avoid wasting time and money, management needs to be very clear with all concerned as to just what they want to accomplish.
Social Media Outsourcing
Outsourcing is a business arrangement in which one company provides for another company services that could also be or usually have been provided in-house. Social media outsourcing is a form of business process outsourcing (BPO), the contracting of a specific business task (e.g., payroll), to a third-party service provider. Generally, BPO is implemented as a cost-saving measure for tasks that a company requires but does not depend upon to maintain its position in the marketplace.
BPO is often divided into two categories. "Back office" outsourcing includes internal business functions such as billing or purchasing. "Front office" outsourcing includes customer-related services such as marketing, tech support … and social media optimization and outreach.
The goals of a social media marketing program are familiar: Establish the company as an industry leader, protect the brand, inspire customer loyalty and repeat business, boost traffic to the Web site, boost sales, etc. The key questions: Should the company outsource its social media marketing work, and can the chosen outsourced service provider deliver on its promises?
Indeed, go ahead and outsource social media functions, said Frank Casale, founder and CEO of The Outsourcing Institute.
"Social media is no different from any function under consideration for outsourcing — you need to run down a checklist," he told the E-Commerce Times. "First, is it a core company competency? Most businesses would say that social media marketing is not core. Then, is it complex, is it rapidly evolving and changing? Yes, certainly. Next, do the skill sets and resources to do the job exist in-house? In most cases, no, they do not. Therefore, does an array of individuals or organizations exist out there in the marketplace that can deliver this service professionally? Yes. So we will quickly see that social media is an ideal client for outsourcing. The pros — the fast time to market — is significant. With the right individual or organization providing the service, a company can have an effective social media marketing campaign up and running in 30 days or less."
Choosing the Right Service Provider
As for choosing a service provider, do your due diligence, advises Andrew C. Frank, a research VP for Gartner Media Industry Advisory Services. "In my opinion, the most important issue to keep in mind when sourcing or staffing a social media marketing program is, does my partner have a demonstrated deep understanding of the community we're addressing and how to communicate with them?" he told the E-Commerce Times.
Care and caution are required in the selection process, concurred Jeremy Epstein, a self-described "marketing navigator for the attention economy" at his Jer979.com blog, a WOM/social media consultant at Johnson & Johnson and a new media blogger at ignitingtherevolution.com. Epstein sees social media marketing as part of what he calls "community-driven marketing."
"Be careful about whom you select to do this," Epstein told the E-Commerce Times. "It's hard to entrust your brand and relationships to someone who doesn't eat, drink and sleep social media. The decision about who to have do the work — and it is definitely hard work — is less about money and more about the time and commitment it will take to do it correctly. No matter who is tasked to do it, they're going to have to roll up their sleeves and put things on people's blogs. The main thing is that, before thinking about outsourcing social media, be sure that you first figure it out for yourself. Otherwise you won't know if you're getting what you really want and need."
Coordinating Role for Communicators
The boom in demand for outsourced social media marketing services has proven to be a timely boon to marketing, advertising and public relations agencies and communications consultants struggling during an economic downturn. The corporate rush to optimize social media has produced a demand for specialized marketing services that traditional communications specialists are eager to step up and satisfy.
Earthbound Media Group (EMG) is an Irvine, Calif.-based strategic marketing agency that offers a full plate of new media services. "Outsourcing the execution of this highly sensitive tactic carries risk because your company or product's reputation is on the line," said Blaine Behringer, EMG COO and managing partner. "This is why partnering with a firm who takes the time to wholly understand up front the range of social media channels as well your audience is especially crucial to the success of an initiative like this," he told the E-Commerce Times.
Behringer's EMG partner Damien Navarro emphasized appraising a prospective outsourcing service provider by starting with the basic approach they advocate.
"Before making any recommendations, a good agency will always as the first step want to evaluate what a client is currently doing in the online space as well as what their audience is involved in and responding well to," he told the E-Commerce Times. "The goal is still to always to find the most efficient way to capture a target audience at [the] lowest possible cost to achieve the highest impact."
Tom Formeski from Silicon Valley Watcher makes a point that PR firms that sell social media services should also have a blog of their own.
For measuring return on investment, rely on a sound set of metrics, according to Ralph Rodheim of Rodheim Marketing Group, a marketing, advertising and public relations agency based in Costa Mesa, Calif.
"You want to know things like the amount of social bookmarks received, customer comments and feedback, comments added to your blog, the number of new links secured by social media marketing, what blogs, forums, etc., are talking about you," he told the E-Commerce Times. "Indicators should be set to measure social media success by factors such as engagement — the average time spent on a Website; interest — the number of downloads; and conversion — the number of sign-ups for an offer."
Social media services agencies typically charge on a monthly retainer or fee-for-service basis. Independent social media specialists typically provide their consulting services on an hourly or flat-rate basis.
Social Media Outsourcing, Part 2: Weighing Risks and Rewards
Click here to be notified when the nextinstallment in this series is published.