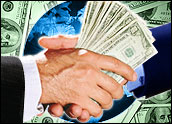 "Monetize."
This dry semantic substitute for figuring out ways to make money stood out as the Word of the Day (or possibly Demand of the Day) for the companies displaying their social media Web sites and Software as a Service (SaaS) offerings at the VentureNet 2008 Conference, produced by the Torrance-based Technology Council of Southern California and held Sept. 12 at the Westin South Coast Plaza in Costa Mesa.
The heavyweights of Southern California high-tech business and venture capital turned out in force for the conference, billed as SoCal's premier event for raising capital and forming strategic partnerships for the information technology industry. The day-long show sold out with 418 registrants, 13 capital presenters, 38 exhibitors, 60+ investors and 11 speakers in attendance.
LA Scene
The upshot of all this high-tech intermingling was a loose consensus that social media and SaaS are presently in strong vogue, Los Angeles' multimedia community is attracting sufficient investor interest to begin challenging Silicon Valley as a technology investment focus, and San Diego is growing in prominence, as evidenced by the presence on the program of a few of its entrepreneurial startups and VC firms. As for Orange County, it remains a medical technology devices leader but lags behind its more dynamic neighbors to the north when it comes to software and Internet plays.
"Los Angeles is an urban hub and has many options for entrepreneurs, from live/work housing to workspaces to entertainment," said Firas Bushnaq, CEO of Boxador, an L.A.-based Internet software incubation and development firm. "L.A. offers all-night coffee shops, tech meetups and an abundant amount of other founders to feed off. As a founder and a serial entrepreneur, I wanted to start Boxador in a city where I can mingle with like-minded technologists and at the same time have a wealthy deal flow for our incubator."
Bushnaq started out in Orange County and remains involved with the computer science school at the University of California in Irvine as a judge for its yearly competition. He still sits on the technology operations committee of OCTANe, an Aliso Viejo-based incubator for Orange County's information technology and biomedical industries. But the creator of Listio.com, a directory for Web 2.0 startups, told the E-Commerce Times that he moved to L.A. because better opportunities lie to the north.
"I still believe in Orange County and its potential to become an attractive major technology hub," Bushnaq said. "I think it is going to take a bit of creative initiative in specializing Orange County as a niche player in a particular branch of technology incubations."
Efren Toscano saw positive developments at the conference for the entire SoCal region. Observed the CEO of Anaheim-based TechZulu.com, which covers emerging and established Southern California technology companies: "Gone are the days of when it's a necessity for a company to move up north to Silicon Valley or San Francisco to get off the ground.
"It was great to see the mass of investors at the VentureNet conference and their willingness to come further south than just Los Angeles," he told the E-Commerce Times.
VentureNet 2008
VentureNet pretty much fulfilled its sponsors' promise to bring together the region's brightest companies with investors and prospective partners from around the country. The conference was emceed by Scott Fox, author of Internet Riches, the reigning top seller on Amazon.com's e-business book list in the U.S. Keynote speakers were John Suh, CEO of Legalzoom.com and Jason Calacanis, CEO of Mahalo.com. Moderators included Mark Skaist of Stradling Yocca Carlson Rauth and Kris Kaufmann of Deloitte & Touche. The investor panelists included Jim Armstrong of Clearstone Venture Partners, James Cham of Bessemer Venture Partners, Beau Laskey of Steamboat Ventures, Ross Levinsohn of Velocity Interactive Group, Greg Martin of Redpoint Ventures, Leo Spiegel of Mission Ventures, Gus Tai of Trinity Venture, and Mike Stuhley, past president of the Tech Coast Angels.
For just about everyone there, it was all about the "defensible" products and services … and monetization.
Seeking Funding for Online Tools
As an example, show presenter Capzles is a Culver City, Calif.-based social media company with Capzles.com, a "social storytelling" site featuring an online tool that lets users frame personal picture, video, documents and other multimedia to share their stories through visually rich "time capsules" — a.k.a. "progressive chronological format timelines." In June 2008, Capzles announced both the public launch of its network and the closure of its Series A funding round. Capzles, which has so far raised an undisclosed first round of over US$1 million, came to the conference to present its case for further investment. To turn a profit (er, "monetize the opportunity"), CEO Chris Anderson said that Capzles will try to sell marketers on the idea of using the site for their campaigns.
Other companies back in front of the money men:
'More Than Just Media and Entertainment'
"High-tech in SoCal has been strong for a long time, and this show is helping highlight the fact that L.A. is more than just media and entertainment," said Magnify360 CEO Olivier Chaine"Companies in Southern California haven't always had the historical luxury of excessive funding, which has its pluses and minuses," he told the E-Commerce Times. "One of the benefits is that it has forced us to build profitable companies with sound business models that can weather the volatility in the market."
Capital is available in Southern California from some leading venture capital firms, Chaine said. "But I've also witnessed a lot of interest in the SoCal tech community from Silicon Valley, the East Coast and other areas too," he said. "Entrepreneurs leading new startups here finally have more and more of the advantages that have existed before only in other communities."
Sid Mohasseb is managing director of Venture Farm and president of the Tech Coast Angels OC. L.A. is growing more and more attractive to investors because of the presence there of long-established media companies, he told the E-Commerce Times. "Because of the dynamics of the Internet, content-driven and media-driven opportunities exist in Los Angeles because that's where the industry talent lives," he said.
Mohasseb stressed that capital for technology investments remains overwhelmingly in Northern California, and that investors there are more tolerant of taking early stage risks than are their SoCal counterparts due to a greater experience nurturing tech startups.
However, the most important factor in differentiating North from South and L.A. from Orange County is the "ecosystem" that underlies new company formation, Mohasseb said, referencing University Avenue, the main commercial street in downtown Palo Alto, Calif. 165 University Avenue is a small rented office building that has served as an incubator for several noted Silicon Valley companies, including Logitech, Google, PayPal and Danger, Inc.
"In Silicon Valley, University Avenue draws venture capitalists and entrepreneurs," he said. "Good entrepreneurs try to migrate to Northern California because they want to be close to capital, and venture capitalists like to invest in companies local to them."
However, SoCal has certain advantages over Northern California, he said. "L.A. has an older, more diverse economic base in areas like retail, aerospace, manufacturing, and in trade with its ports, which means that it generally does well in times of recession."