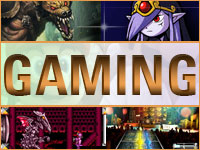 Succumbing to the primal pull of gameplay, millions of new consumers are joining the nearly ubiquitous adventure of exploring the pixelated worlds presented in video games, seeking personal recreation, relaxation, amusement, even escape — and the industry is feeling the profound effects of that stampede.
Ginormous metamorphoses continue to roil the busy, merciless landscape of today's US$28 billion U.S. video game business, challenging traditional concepts of how leading PC and console titles operate and altering the very definition of the term "interactive entertainment." Innovations are transforming a variety of devices from PCs to TVs, consoles, smartphones and tablet computers, while trends like casual gaming, social network games, smartphone apps, digital distribution, cloud computing, advergaming and motion controls are changing the very nature of gameplay itself.
And nowhere are the impacts of the forces at work more pronounced than in California and its three hubs of video game creativity — Northern California, Los Angeles and Orange County, where companies come and go in a vibrant flux of continuous and sweeping aesthetic and artful destruction and renewal.
As always, money remains central to the challenges facing the video gaming industry. The biggest difficulty for the industry is reining in the cost of games, and the biggest issue facing the industry is the monetization of multiplayer online gaming, according to Michael Pachter, gaming research analyst and managing director at Wedbush Securities.
"Costs have escalated and expectations have increased to the point where only a small percentage of games are profitable, and most games require more than 1 million units sold to break even," Pachter told the E-Commerce Times. "The industry can't thrive if that remains the case."
Regarding multiplayer online gaming, publishers have trained consumers to expect hundreds of hours of online game play, with the consequence that these gamers buy fewer games than in the past, he noted.
"The industry has created a mismatch, where there are more people playing more hours than ever, but they're paying less for the privilege, while the cost of providing content continues to rise," Pachter explained. "This is unsustainable, and until the publishers figure out how to monetize online game play, they are likely to be only modestly profitable."
Sales of video games in 2010 were flat compared to 2009 totals, according to NPD Group, a consumer and retail market research firm. NPD estimates that consumers spent between $15.4 to $15.6 billion on all video game content (not including hardware). That comprises gaming content sales via all monetization methods, including new physical video and PC games, used games, game rentals, subscriptions, digital full-game downloads, social network games, downloadable content and mobile game apps.
Still a Growing Market
Nonetheless, entertainment software remains one of the fastest growing industries in the U.S. economy, according to PricewaterhouseCoopers. In fact, states PwC, the sector will remain "one of the above-average growth segments of the global entertainment industries through 2011."
According to video game sales tracker VGChartz, 17 games available on one or more video game platforms sold more than 5 million units in 2010. Nintendo, Activision, Take Two, Microsoft, Ubisoft, Square-Enix and Electronic Arts all produced 5m-level hits. Sequels reigned across all gaming platforms, and sales were dominated by Nintendo titles (with "Wii Sports," "New Super Mario Bros. Wii," "Wii Sports Resort," "Wii Fit Plus" and "Pokemon Heart Gold/Soul Silver Version" ranking in the top 10).
Star of the 2010 show, though, was definitely Activision's "Call of Duty: Black Ops." The seventh installment in the "Call of Duty" franchise made history with its last-quarter sales spree. A first-person shooter, "Black Ops" quickly achieved sudden and extreme success in the gaming world when it was released on Nov. 9. Activision sold a total of approximately 9.4 million copies of the game across multiple platforms (Xbox 360: 5,362,003; PS3: 3,769,572; PC: 279,107) in the very first week, subsequently announcing that "Black Ops" had become the biggest entertainment launch to date. VGChartz estimates that "Black Ops" generated more than $500 million for Activision. Including downloadable content and royalty breaks, not to mention the PC version, the game might have made closer to $1 billion for the company.
"The dynamics of games content purchasing changed dramatically in 2010, with options ranging from the physical product to digital downloads on connected devices as well as in-store digital kiosks," said Anita Frazier, NPD Group industry analyst. "The increasing number of ways to acquire the content has allowed the industry to maintain total consumer spend on content as compared to 2009, and we should expect 2011 to be a growth year in the games industry as the consumer demand for gaming continues to evolve."
The Entertainment Software Association (ESA) is the trade association that represents U.S. computer and video game publishers. According to an Aug. 2010 ESA study, "Video Games in the 21st Century: The 2010 Report":
The computer and video game industry added $4.9 billion to the U.S. economy in 2009.
The industry's annual growth rate from 2005 to 2009 exceeded 10 percent, more than seven times the growth rate of the U.S. economy as a whole.
The entertainment software industry directly and indirectly employs more than 120,000 people in 34 states.
Direct industry employees earn an average annual compensation of $89,781.
Game Player Data
The ESA's "2010 Essential Facts About the Computer and Video Game Industry" show that 67 percent of American households play computer and video games. The research also reveals other interesting demographic facts about today's gamers and the games they play, including:
The average gamer is 34 years old and has been playing for 12 years.
Forty percent of all players are women, and women over 18 years of age are one of the industry's fastest growing demographics. Today, adult women represent a greater portion of the game-playing population (33 percent) than boys age 17 or younger (20 percent).
Twenty-six percent of game players are above the age of 50, an increase from nine percent in 1999. This figure is sure to rise in coming years with nursing homes and senior centers across the nation now incorporating video games into their activities.
Sixty-seven percent of homes in America own either a console and/or PC used to run entertainment software.
Fifty-eight percent of online game players are male and 42 percent are female. Forty-two percent of heads of households report they play games on wireless devices such as a cellphone or PDA, up from 20 percent in 2002.
Tremendous Trends
The prevailing direction of trends in the video game industry is toward increasing technological and societal complexity. Video games are driving advancements that serve gamers and non-gamers alike in the areas of business, education, health and more.
Going Casual. A mass audience of "casual" gamers (largely women), indifferent to (or even unaware of) hardcore gamer scorn, are currently using their PCs and cellphones to play games with simple rules that require minimal time commitment and no special skills. Game producers love "social" games and smartphone apps because of low production and distribution costs.
Social Games. Facebook Apps offers the top social network's 500+ million subscribers hundreds of free games to play — including action, adventure, arcade, puzzle, racing and shooters. Social network games rank among the most popular games played in the world, with several products attracting tens of millions of players. "FarmVille," "FrontierVille" and "Mafia Wars" are examples of popular social network games. San Francisco-based social network game developer Zynga develops browser-based games that work both standalone and as application widgets on social networking websites such as Facebook and MySpace.
Smartphone Apps. Admittedly, the nascent mobile/portable smartphone (handheld computers integrated with mobile telephones) gaming market has its problems, e.g., small screens and the fact that mobile games do not run identically across multiple platforms. But according to a study by ComScore, more than 45.5 million people in the United States owned smartphones in 2010, so a sizeable market does exist. And smartphone game tastes are definitely casual — when Apple revealed its Top 10 Most Downloaded Apps earlier this year, the overwhelming majority of the games listed were amusing distractions in the vein of "Doodle Jump," "Angry Birds" and "Flight Control."
Digital Distribution. While today's most substantial game fare is still found in boxes on the shelves of the giant retailer GameStop, digital (online) game distribution is growing in popularity with the practice of delivering content without the use of physical media, typically by streaming games or downloading everything from the Web directly to the consumer's hard drive or gaming device. EA Games President Frank Gibeau has said that the company's future may lie in PC game downloads.
Cloud Gaming. Cloud gaming involves delivering hosted games over the Internet. Game time is sold "on demand," typically by the minute or the hour. The service is elastic – users can play as much or as little as they want at any given time. Everything is fully managed by the provider — all the consumer needs is a personal computer and Internet access. Gaikai, OnLive and OTOY compete in this space. OnLive sells full games, provides demos, brag clips and the ability to watch other players play games (Arena). Gaikai advertises games via a webpage as demos. Main cloud-based gaming issues concern game "ownership" and subscription fees. Moreover, the broadband Internet connection needed to deliver that efficient streaming technology is out of reach for a lot of people.
Advergaming. Advergaming is the practice of using video games to advertise products, organizations and even viewpoints. With the growth of the Internet, advergames have proliferated, often becoming the most visited aspect of brand websites and turning into an integrated part of brand media planning in an increasingly fractured media environment. Advergames theoretically promote repeated traffic to websites and reinforce brands. Users choosing to register to be eligible for prizes can help marketers collect customer data. Gamers may also invite their friends to participate, which could assist promotion by word-of-mouth viral marketing.
Motion Controls. Motion control-based gaming appeals to casual and hardcore gamers alike. Controlling an onscreen avatar (a graphical image that represents the player) with nothing more than slight flicks of a wrist has been a dream of gamers ever since the Nintendo Power Glove. Nintendo's Wii, introduced in 2006, was the first wireless motion-capture gaming console-sensors allow players to dictate the movements of their onscreen avatars. Motion controllers with accelerometers are used as gaming controllers. Wiimote, ASUS Eee Stick, PlayStation Move, Xbox Kinect, and HP Swing are a few motion controllers available in the market. Sixense TrueMotion uses a magnetic field for determining absolute position and orientation. Kinect's runaway success over the 2010 holiday season helped Microsoft vault into record revenue for its second fiscal ending Dec. 31, 2010. Eight million Kinects were sold within the hands-free controller's first 60 days of life. Sony didn't do too bad either — more than 4 million PlayStation Move systems sold as well.
Going With the Trends
"Social and mobile games are two big challenges on the business side for the traditional, core video game industry," said Todd Northcutt, vice president and GM for IGN Entertainment's GameSpy Technology division, which provides online video game-related services and software. "Free and low cost alternatives to sixty-dollar shrink-wrapped games abound and the industry needs to figure out how to respond."
Northcutt cited the challenge the Nintendo 3DS faces — which system do parents chose for their children: the $229 iPod touch with 99 cent games, or the $250 handheld with $40 games?
"For hardcore gamers the choice is obvious — both!" Northcutt told the E-Commerce Times.
While these new kinds of games present difficulties for the traditional video game industry business, they also present a huge opportunity, according to Northcutt.
"We've seen some developers use social games as unique cross-promotional tools, like Rockstar's 'Red Dead' Facebook game, which was used to build pre-release buzz and offer those who purchased the 'full' game exclusive perks for playing both versions," he explained. "I think we'll see clever developers learn how to use these new game types and business models to enhance and augment their big-budget titles."
David Perry is CEO of Orange County, Calif.-based Gaikai, a cloud gaming service based on the idea of playing games remotely on a central server, with the video footage fed to the home PC.
"The biggest business challenge facing the industry is the transition from retail to digital," Perry told the E-Commerce Times. "It will take time and it will be fascinating to see all the new digital business models publishers come up with."