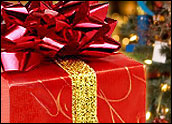 Red costume, white beard, ruddy cheeks, cheery voice and smiling, twinkly-eyed charm — all are indispensable tools for any self-respecting Santa Claus. Nowadays, however, there's a lot more than mere lovable magic going on in the business of being Mr. Claus.
Modern Santa has gone high-tech, and today he's all about things like Web landing pages, smartphone apps and ever-more-impressive techno-spectacle.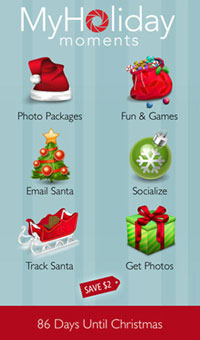 Cherry Hill Photo's free MyHolidayMoments app for iPhone and Android.
Next up: night-vision goggles, "relativity clouds," "nano-toymakers" and a Santa suit made out of light-bending meta-materials conducive to invisibility purposes (when appropriate). With Santa, anything seems possible.
Digital Santa
Santa Claus — easily the world's most recognizable fictional character — is the reigning famous face of the Christmas holiday retail season, and an important season it is: In 2012, for instance, holiday sales represented 19.3 percent of total retail industry sales, according to the National Retail Federation.
Once upon a time, the economic dynamo that is Santa Claus, Inc. required very little technical help in the way of props to cast a spell on children and their shopping parents. Santa's in-person illusions used to function primarily in an analog realm of human imagination fired by the jolly gent's stunningly great look, warm personal greetings, kindly smiles and attentive ear.
Some beloved basics never change, of course, but now we have a Digital Santa who relies on GPS to navigate his way to gigs and events that he's scheduled in his iPhone or Android appointment book app.
Prospective customers, meanwhile, find out about their Santa via websites, Facebook pages, Twitter accounts, YouTube video channels and Yelp reviews — evidence that, of all the technology influencing the evolution of Santa Claus, the Internet has had the greatest impact on Santa's tech transformation.
Santa.com, for example, offers a an online tool as well as a free app called "Santa Express for Kids" for creating letters to Santa on the Apple iPad.

Then there's ClausNet.com, the Santa Claus Network. The ClausNet community is the largest social network and online resource for Santa Claus, Mrs. Claus, elves, reindeer handlers and Santa helpers for the purposes of sharing stories, advice, news and information.
Earnings Up to $10,000
Techno Santa — also known as computerized gift buying and giving — takes off promptly each year on Cyber Monday. In 2012, consumers spent US$1.465 billion online on Cyber Monday, making it the heaviest online spending day in history, comScore reported.
This year, with stores offering big online sales discounts, FedEx expects Cyber Monday 2013 to be the busiest day in its shipping history. In fact, e-commerce is growing globally at three to four times the rate of traditional retail buying in brick-and-mortar stores, the global package shipping company said.
To keep pace in meatspace, real-world Mall Santas have to put on quite a show to earn the fees of up to $10,000 that they can pick up working 14-hour days from mid-November to Christmas Eve.
'They Expect a Real Show'
Store Santas have come a long way over the years since December 1890, when James Edgar dressed up as Santa Claus to entertain the children of shoppers as he strolled through his Edgar Department Stores in Massachusetts.
Come the holidays, what once tended to be a cramped, out-of-the-way "See Santa" area in a busy department store is now an ADA-compliant mallway showcase centerpiece. It comes complete with velvet crowd-control ropes on steel posts to guide families through elaborate settings with elves, gift-wrapped packages and even polymer "snow."
"Today's children going to see Santa at a mall watch him completely out in the open, and they expect a real show," explained "Santa Hollywood" Timothy Connaghan, an International Santa Claus Hall of Fame inductee who is celebrating his 46th year playing the role of show-biz Santa Claus.
"At the mall now, Santa occupies an entire set," Santa Hollywood told TechNewsWorld. "It's designed to make it easy for the kids to get in, enjoy the experience while waiting to talk to Santa, sit on Santa's lap to tell him their wish lists, pose for a picture, then move back out into the mall."
'Santa's Fast Pass'
In 2012, Westfield Valley Fair in Santa Clara, Calif. unveiled a tech-filled and interactive Santa display featuring TV-size touch screens for kids to play. Amazon employees circulated Kindles loaded with children's stories to entertain families as they waited. The centerpiece of the display was a 40-foot artificial tree that emitted little bursts of evergreen scent to enhance the shimmering reflective ornaments. The twinkling pathway led to Santa, whose chair is a nook in a larger-than-life ornament.
Behind-the-scenes programming helps expedite Mall Santa matters. New Jersey-based Cherry Hill Photo Enterprises develops Christmas apps and is a specialist in digital photography for holidays and special events. The company created the popular "Santa's Fast Pass" app, which gives customers the ability to prepay online for their Santa photos and receive expedited service when they get to the mall.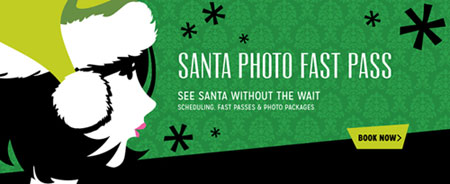 Mega-maller CBL & Associates Properties, which is one of the largest U.S. owners, developers and managers of malls and shopping centers, uses Cherry Hill's Santa's Fast Pass app for its own "FastPass!" to offer shoppers a "front-of-the-line" pass to skip the wait for photos with Santa. Shoppers visit the mall website and pre-purchase a photo package to enter Santa's FastPass! line and avoid the wait. After all, there's no use wasting time standing in line talking to people when you can be shopping in the stores.
Cherry Hill, headed by company President Ed Warchol, has sold 40 million photos during 52 years working in most of the premier shopping destinations throughout the U.S., Puerto Rico, Canada and England.
"Our goal has been to make our apps useful, fun and informative, and I think that we were able to accomplish that," Warchol told TechNewsWorld.
'At the Mall, I'm Just Santa'
Amidst all high-tech gleam, meanwhile, the real man inside the suit typically takes back seat to his working persona.
Santa Lorrin Montag Sr. of California's Riverside County, for example, does charity events and some home visits, but he is primarily a Mall Santa, appearing at places like the Montclair Mall and The Shops of Mission Viejo. He's also done newspaper interviews — not as himself, but as Santa Claus, he said.
"I am not allowed, when on the set, to give my name, my photos on request or my Facebook page address with my real name," Santa Lorrin told TechNewsWorld. "At the mall, I'm just Santa."