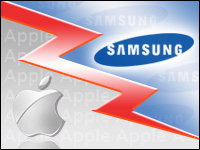 Samsung Electronics must pay Apple US$290 million in damages for infringing five of its patents, a federal jury in California decided on Thursday.
The sum may not make a huge mark — or even a moderate one — on Samsung's balance sheet, but the verdict gives Apple one more victory against its rival as the two battle their way through courtrooms around the globe.
"We are disappointed by today's decision, which is based in large part on a patent that the U.S. Patent and Trademark Office has recently deemed invalid," Samsung said in a statement provided to the E-Commerce Times by spokesperson Lauren Restuccia.
"While we move forward with our post-trial motions and appeals, we will continue to innovate with groundbreaking technologies and great products that are loved by our many customers all around the world," the company added.
Apple did not respond to our request to comment for this story.
Five Key Patents
The verdict stems from the blockbuster loss suffered by Samsung last August, when a California jury found that the company had infringed on Apple's patent and should pay more than $1 billion in damages.
In a twist, however, judge Lucy Koh vacated $450 million of that award on the grounds that it was unclear how it had been calculated. Samsung still owed $600 million, she ruled, but the remaining portion of the award went back to trial.
The trial, which just ended, focused on the five patents addressed in the $450 million portion of the award that was vacated and how the damages should be calculated.
Apple argued that it deserved $380 million in damages; Samsung, not surprisingly, argued it should have to pay Apple a far lower amount — $52 million.
A Fraught Trial Process
The most recent trial itself, while not as dramatic as the preceding one, definitely did have its moments.
Samsung, for example, filed an emergency motion to stay the trial earlier this week, pointing to a U.S. Patent and Trademark Office reexamination decision in which it questioned whether Apple's "pinch to zoom" patent is valid.
In a filing, Samsung said the PTO's decision "calls into question the entire jury verdict in this trial."
Apple, however, scoffed at the request, saying that it had "crossed the bounds of reason." Samsung, Apple countered, had tried to delay the trial at many points, and that particular argument contained "nothing even resembling good cause."
In another instance, Samsung asked for a mistrial on the grounds that one of Apple's attorneys was appealing to racial bias with his arguments. Attorney Harold McElhinny, according to news accounts, discussed how patent infringement affects the U.S. economy.
Koh refused to grant a mistrial but did make a point of telling jurors not to allow any feelings they might have about a group of people factor into their decision.
'A Million Here, a Million There'
Of course, any legal win is a plus for a company, but as Apple and Samsung continue their legal war, it does appear in the court of public perception that Apple is stacking up more victories than Samsung, Trip Chowdhry, managing director of equity research at Global Equities Research, told the E-Commerce Times.
"A million here, a million there, that is nothing for these companies," Chowdhry said.
The legal strategies are important, he added, especially if they are able to limit one company's exposure in a particular market. Still, the technologies move so fast in the wireless space that even those victories are limited in impact.
'They Will Continue to Fight'
On the other hand, consumers' perceptions that Apple's technology is creative enough to be patented — and presumably copied — is a long-lasting benefit, he said.
"The message that people are picking up is that Apple doesn't build commodity products — that, instead, its products are highly innovative," Chowdhry explained.
Not that Apple and Samsung aren't willing to go to the mat over even the most arcane legal theory and technical detail, noted Peter Toren, a partner with Weisbrod Matteis & Copley.
"They will continue to fight their battles in courtrooms because the stakes are so high," Toren concluded. "One loss, or victory, won't stop that."