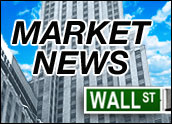 Election Day jitters reached Wall Street today as the markets finished mixed, giving up sizeable gains as investors moved to hedge their bets in the face of a too-close-to-call election.
The Dow finished lower by 18.66 points, or 0.19 percent, at 10,035.73. The Nasdaq gained 4.92, or 0.25 percent, to close at 1,984.79, while the S&P 500 rose a fraction of a point to finish the session at 1,130.58.
Stocks had been higher most of the day, with the Nasdaq trading above the 2,000 level for the first time since summer.
Election Reports
Heading into the last hour of trading, however, all the indices showed a sharp drop-off, which some market watchers attributed to Internet reports claiming that early exit polling showed Democratic challenger Sen. John F Kerry faring well against President Bush. Others attributed the selloff to broadcast reports of polling problems in key states, which raised fears that the election results may not be clear for some time.
Tech stocks were helped by an agreement between wireless communications firms Nextel and Verizon, which settled a long-simmering dispute over wireless spectrum ownership and push-to-talk technology, and by continued interest in Oracle and PeopleSoft shares a day after Oracle sweetened its bid to buy its rival for an even US$1 billion.
Oil Retreats Further
Oil prices continued their retreat, losing another 53 cents in New York trading to close at $49.60, the lowest close since late September and the first time in nearly a month that oil futures closed under $50.
Ahead of Friday's October job numbers, private placement firm Challenger Grey & Christmas said its monthly survey shows announced layoffs down 5.6 percent last month, but still hovering near the highest levels of the year.
The firm said the job market remained "stuck in the mud," with every piece of positive economic news almost immediately wiped out by a negative report.