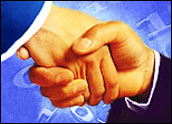 eBay (Nasdaq: EBAY) andGeneral Motors (NYSE: GM) announced Thursday that they have signed a co-marketing agreement that will see the Internet auction site and the auto giant partner on both online and offline promotions.
According to GMDirector of Alliances and Acquisitions Rich Christensen, eBay Motors, eBay's online automotive auction house, is a natural fit for GM in terms of trafficand general demographics.
"At GM, we're identifying and going after all of the possible ways tobuild relationships with the online community," Christensen said.
The automaker also has marketing arrangements with America Online, NetZero, and several focused communities such as Black Voices.
Ads and Events
The companies said that GM will have a presence on both eBay and eBay Motors through advertisements promoting its products and services. According to Christensen, the automaker's online ad campaign includes both general branding ads and more specific promotions.
Joint events being planned by the companies include charity auctions of GM autos, such as the Yukon XL used in MTV's "Real World" TV show and "other one-of-a-kind cars."
The companies worked together on similar auctions in January when eBay hosted three charity auctions for GM that raised a total of nearly US$150,000.
Other events could include live chats with automotive experts and celebrities, the companies said.
Christensen said chats could include celebrity buyers of GM products and added that GM had had "a lot of requests for chats with designers and engineers." The companies are also contemplating dedicated fan sites for popular GM makes such as the Chevrolet Corvette.
The deal makes GM the exclusive automotive sponsor of eBay subsidiary Kruse International's live auction events. Kruse currently auctions more than 13,000 cars annually through over 25 live auctions each year.
Replacements Parts
As part of the partnership, GM will provide links to products and services that are not currently available on eBay. For instance, a link to GM Restoration Parts could make it easier for eBay users with vintage GM cars to find replacement parts.
Christensen stressed that GM does not want to compete with eBay Motors sellers, but instead wants to offer an easy way for auto enthusiasts to obtain parts that they cannot find at eBay.
eBay stock closed Thursday down 2 1/4 at 37.
Jackie O's Car
In related news, eBay has auctioned off an automobile once belonging to Jacqueline Kennedy Onassis. Bidding for the vintage 1974 BMW Bavaria 3.0S began December 1st at $12,500 and ended on Monday with a final bid of US$57,100.
A green sedan with tan leather interior and an odometer reading of 65,000 miles, the car is said to have been Onassis' favorite car. She used it exclusively to commute between her Manhattan apartment and her country estate in New Jersey until she sold it to her neighbor in Peapack, New Jersey.
In addition to the car, the unidentified winning bidder will receive six photos of the former First Lady with the car and the original title documents, dated and signed by Onassis.