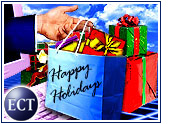 As homeowners begin scaling their ladders to put up holiday lights and brick-and-mortar store managers start dusting off their reindeer and snowflake decorations, thoughts of revenue sugarplums doubtless are dancing in e-tailers' heads.
This year, after all, analysts are predicting robust growth in online spending as the gift-buying season gathers steam. BizRate.com has forecast US$18.35 billion in online sales during the period, a 22 percent increase from last year.
The popular item categories also have been set, with clothing, electronics, toys, music, books and DVDs topping the list. Yet there still could be some surprises. Here are some predictions of likely hot sellers.
Electronics Click
Items that click and compute are always popular at holiday time, but this year they could be more sought-after than ever before. The digital-camera boom, combinedwith users' increasing comfort level with technology, makes electronics a clear gift choice.
The big trend this year will be a shift toward the next generation of products that were introduced last year, such as media center PCs and home networking kits, according to Gary Shapiro, president of the Consumer Electronics Association.
"You're going to see a lot of buying around WiFi items and networking products," Shapiro told the E-Commerce Times. Along with this trend, he predicts a boost in sales of gear related to wireless and home networks, such as DVD players, HDTVs and PCs marketed for their home-entertainment abilities.
"Ever since September 11th, people want to stay home and invest money in where they live," he said. "That's why, even when the economy was doing so poorly, consumer electronics purchases were actually growing."
Other types of consumer electronics also should do well. For example, eBay has predicted hot sellers will include the Pentax Optio 33WR digital camera, the Siemens SL56 cell phone, the Palm Zire 21 PDA and the Sony Vaio PCG-TR2 notebook computer.
Games Going Gangbusters
Computer and console games are not just hot, they are white hot. "This is the third, if not the fourth, wave of gaming," Shapiro said. "It's getting to the point where there's much more sophistication in stories and graphics. That will make for a very healthy marketplace at the holidays."
Jason Della Rocca, program director of the International Game Developers Association, told the E-Commerce Times that as processor speed has increased, so has the complexity of games and their ability to use more elaborate graphics. This evolution has lead to a huge boost in game sales that should be reflected in the month ahead.
"There is some really compelling and innovative stuff going on," he said, "and people are noticing that and buying. Not just kids, either. Gaming has really gone mainstream."
Clothing Charges Ahead
On the clothing front, the word of the year is cashmere, according to Jonathan Morris, executive vice president at Bluefly.com. He told the E-Commerce Times that demand started climbing in October and is growing at a steady clip.
"Cashmere has historically been a strong category in the past," he said. "But now there's also tremendous value in this category."
He noted that Bluefly.com is selling cashmere sweaters for less than $80 — 60 percent off of retail value. Cashmere fits in well with what Morris sees as the hot clothing trend this year.
"People are looking for fashion basics — items they can wear year after year," he said.
Year of Gift Certificates?
Also in 2003, holiday shoppers likely will shop in increasing numbers for people who have everything — by giving them the ability to pick their own presents. Gift certificates will be highly in demand this year, according to Morris.
"This is the first time we'll be offering them," he said. "In the past, there have been technology issues with getting that put in place, but we've solved that."
He noted that gift certificates can be especially good choices for last-minute shoppers. This group of procrastinators traditionally has been attracted to online buying, so any rise in gift-certificate promotions should pay offfor e-tailers.
Toys on Track
Of course, it would not feel like the holidays without a bevy of toys crowding virtual store shelves. Larissa Hall, vice president of Buy.com, told the E-Commerce Times that the site has opened a new toy section just in time for the holidays and has partnered with KBToys on the initiative.
For its part, eBay has released a list of hot toys for the season. In conjunction with Chris Byrne, editor of "The Toy Report," the site is providing the list to assist sellers in stocking up for the holidays — and to tip off consumers about potential items that could appear on children's wish lists.
This year, the list features 20 top toys, including Hokey Pokey Elmo and Limbo Elmo, Lord of the Rings action figures, GI Joe 40th anniversary figures and Micropets. Also on the list are old favorites like Care Bears, Strawberry Shortcake, My Little Pony and, of course, Barbie.
Regardless of whether shoppers purchase cashmere sweaters, media center PCs or Elmo dolls, e-tailers are ready for the holiday ramp-up. It remains to be seen how healthy revenues will be, but in the e-commerce world, there are high hopes for a season that is holly, jolly and bright.