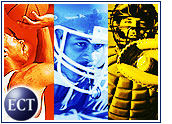 Even the backing of most valuable players Michael Jordan, John Elway and Wayne Gretzky could not help sports e-tailer MVP.com in the rough and tumble world of e-commerce.
Online media company Sportsline.com announced Monday that it had purchased the domain names, trademarks and certain other assets associated with MVP.com and MVP.com-owned sites PlanetOutdoors.com, Igogolf.com, Tennisdirect.com and Golfclubtrader.com.
Dan Head, vice president of e-commerce for SportsLine.com, told the E-Commerce Times that the deal was made because "we think there's a brand there that's worthwhile."
The acquisitions come two months after Fort Lauderdale, Florida-based SportsLine.com cut ties with MVP.com, which had a 10-year, US$120 million deal to run Sportsline's online store, for failing to fulfill its contractual obligations.
Game Over
MVP.com spokesperson Paula Davis told the E-Commerce Times that the sale was not unexpected because the last few months have been "very challenging." Davis said that because of a downturn in the market, the company could not secure additional funding.
Although SportsLine.com did not specify what the "certain other assets" purchased were, there is the distinct possibility that they include MVP.com's valuable customer databases.
"We're not talking about the details of the additional assets," Head said — adding, however, that "there are some privacy issues to address."
Nothing But Press
Davis said that MVP.com's remaining 43 employees would stay on during the transition period, which could last several months, and would then be let go. The company's Chicago, Illinois headquarters will then close, according to Davis.
Head said that there were no plans to offer positions at SportsLine.com to departing MVP.com staff at this time. However, at least two of the MVP.com's MVPs, Jordan and Elway, are already associated with SportsLine.com, and Head expects those relationships to continue.
There are also no plans in the works to dismantle the MVP.com site. Head stressed that SportsLine.com believes the MVP.com domain name is a valuable piece of Web real estate and said that although it would undergo routine maintenance to make sure it stays fresh, the site would continue to exist.
No Championship Season
The sale of MVP.com's assets came less than 14 months after the site launched, attracting the attention of both the e-commerce and sports worlds because it was backed by three of the biggest names in sports: Jordan, who led the Chicago Bulls to six National Basketball Association (NBA) championships; Elway, who picked up two Super Bowl wins with the Denver Broncos; and Gretzky, who is hockey's all-time leader in scoring.
Investors, hoping to cash in on the $150 billion global sporting goods market, rushed to offer their financial blessings to the site. Initial investors included Benchmark Capital and Freman Spogli & Co., who sank a combined $65 million into the company.
However, the company showed signs of trouble in December, when it closed its offices in Boulder, Colorado and Austin, Texas and laid off 79 of its 166 employees. Another 34 employees were let go less than a month later.
Who's Running the Shop
Sportsline.com also announced Monday that it had chosen USA Networks to replace MVP.com as the exclusive operator of CBS Sportsline.com's online store.
The multi-year deal calls for USA's Electronic Commerce Solutions (ECS) to build and service CBS SportsLine.com's entire retail infrastructure. The companies plan to relaunch the Shop SportsLine Store by the spring of this year.
The deal also calls for ECS and SportsLine.com to jointly promote the store through USA Networks' Internet Holdings, including Ticketmaster.com, Citysearch.com and Hoteldiscount.com, and through USA Network's media companies including the Sci Fi Channel.
SportsLine.com, which operates sites for Major League Baseball and the PGA Tour, said that the MVP.com properties would remain open while operations are transferred to ECS.