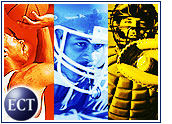 MVP.com announced Monday that it has laid off 36 more employees as part of a restructuring plan the online sports e-tailer began in December, when it laid off 79 people.
MVP.com spokesperson Paula Davis told the E-Commerce Times that the layoffs were across all departments and all levels. The sports e-tailer, backed by athletic superstars Michael Jordan, John Elway and Wayne Gretzky, has 43 employees remaining at its Chicago headquarters.
Although only a quarter of MVP.com's original staff remains to maintain the site and fulfill customer orders, Davis said that reports of MVP.com shutting its doors are untrue. In addition, Davis stated that the company is continuing to offer its full line of product categories.
"We're very much open for business," Davis said, adding that "customers are responding to our promotions."
Good Sports
Davis would not comment further on the future of MVP.com, but said that "the necessity to take costs out of the operation, without compromising the user experience on the site and our ability to fulfill orders," caused the new layoffs.
Last year, MVP.com acquired PlanetOutdoors.com and IgoGolf.com as part of its restructuring process. Davis told the E-Commerce Times in December that certain functions became redundant as a result of these new acquisitions.
MVP.com is only one of many sporting goods e-tailers to undergo restructuring, consolidation or closing. The struggles of Boo.com, Gear.com, Planetoutdoors.com, and the recent acquisition of Fogdog (Nasdaq: FOGD) by Global Sports (Nasdaq: GSPT) have all signaled the demise of pure-play online sporting goods stores.
That Championship Site
The launch of MVP.com early in 2000 attracted the attention of both the e-commerce and sports worlds because it was backed by three of the biggest names in sports: Jordan, who led the Chicago Bulls to six National Basketball Association (NBA) championships; Elway, who picked up two Super Bowl wins with the Denver Broncos; and Gretzky, who is hockey's all-time leader in scoring and the winner of several Stanley Cups.
Investors, hoping to cash in on the US$150 billion global sporting goods market, rushed to offer their financial blessings to the site. Initial investors included Benchmark Capital and Freeman Spogli, which sank a combined $65 million into the company.
MVP.com also netted an alliance with CBS that called for $85 million in advertising, promotion and other considerations over a period of four years, in exchange for an undisclosed equity stake.
However, SportsLine, the publisher of sports Web site CBS Sportsline.com, said in November that it was terminating its agreement with MVP.com because the site failed to meet its contractual obligations.
Poor Sports
In related news, brick-and-click sporting goods retailer WorldWideSports.com stated Monday that it saw a 40 percent increase in sales for the year 2000.
The North Hampton, New Hampshire-based company said it owed its success to controlled growth, the ability to offer name brand products and its customer service.
"The consolidation among Web based sporting goods retailers is a great opportunity for us," WorldWideSports president Rick Philbrick said. "Our proven successful approach has left WorldWideSports.com not only standing, but expanding in 2001."