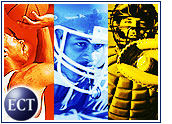 Global Sports, Inc. (Nasdaq: GSPT) was up 1/2 at 6 3/16 early Wednesday after the company, which develops and operates online sporting goods businesses,said it expects fourth-quarter results to exceed analysts' expectations.
The King of Prussia, Pennsylvania-based company said sales for the quarterended December 30th will be higher than the US$19.3 million predictedby analysts, and above the $5.5 million seen in the 1999 fourth quarter.
The company predicted an operating loss, before non-cash charges, smallerthan the $9.9 million analysts expect. A year earlier, the company posted anoperating loss before charges of $14.7 million.
Global Sports said it expects to close the year "in a strong financialposition," with cash, cash equivalents and short-term investments totalingabout $93 million, up from $27.3 million a year earlier.
"I am excited about our performance during the crucial holiday season andour ability to deliver better than expected top-line and bottom-lineresults," said chairman and chief executive officer Michael G. Rubin.
"Our solid financial position enabled us to be successful in 2000," Rubinadded. "I believe we are well positioned to meet or exceed analystsexpectations in the coming year."
Global Sports, which operates Web sites for companies including Kmart-backed BlueLight.com and the Sports Authority, recently acquired online sportinggoods store Fogdog for $38.4 million in stock.
In November, Global Sports won a contract from Bally Total Fitness to set up an online store for the health club chain's four million members. The new storeis scheduled to debut in the current fiscal quarter.