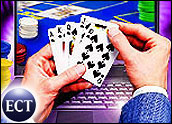 A federal court in New York has sentenced the first person to stand trial for operating an offshore gambling business that unlawfully accepts bets from Americans over the Internet.
U.S. District Judge Thomas Griesa sentenced Jay Cohen, co-owner of Antigua-based World Sports Exchange, to 21 months in prison followed by two years of supervised release, in addition to a $5,000 fine (US$) and an $800 special assessment.
"People who operate businesses from foreign shores that take sports bets from Americans should understand that they cannot escape the consequences of their actions by locating their sportsbooks outside the United States," said U.S. Attorney Mary Jo White.
"An Internet communication is no different [from] a telephone call for purposes of liability under the Wire Wager Act," White said.
Phone Home
In late February, following a two-week trial, a federal jury convicted Cohen under the Wire Wager Act, which prohibits the use of telephone lines in interstate or foreign commerce to place bets on sporting events, and also bars the transmission of information that assists in betting.
Prosecutors said Cohen solicited Americans to call his business using toll-free numbers and to contact it via the World Sports Exchange Web site. The company also solicited customers through newspaper and magazine ads, the government said.
According to the U.S. Attorney's Office, Americans were encouraged to set up sports betting accounts with World Sports Exchange, to wire money to fund the account, and to bet on American sporting events and contests.
Playing the Fugitive
Although Cohen holds the distinction of being the first person to stand trial under the Wire Wager Act, other defendants have been charged under the law.
In a 1998 case, 21 people were charged for their involvement in operations that allegedly took money from Americans for sports betting using the Internet and telephone. Ten of them pled guilty to conspiring to violate the act, and three pled guilty to related misdemeanor charges.
Seven of the defendants in that case, including three alleged co-conspirators of Cohen, are fugitives, the government said.
Bird on a Wire
Federal legislators have not yet enacted laws specifically aimed at Internet gambling. The conviction and sentencing of Cohen was therefore a victory for prosecutors who established that existing laws can be applied to Internet gambling.
In July, a bill that would have banned online betting stalled in the U.S. House of Representatives, after it fell 25 votes short of the two-thirds majority needed for approval under the special floor rules under which it was considered. The proposed law would make it a federal crime — punishable by up to four years in prison and fines of $20,000 or more — to operate a Web site that accepts wagers from Americans.
At the time, the Clinton administration said that because of loopholes that would allow betting on dog and horse racing, the bill would have had the effect of "opening the floodgates" for illegal gambling.
Survey Says
At last count, there were about 700 online gambling sites, and the industry predicts the business will grow from $1.1 billion in 1999 to more than $3 billion by 2002.
A recent phone survey of Internet users by the Pew Internet & American Life Project found that one million Americans gamble online each day and that 4.5 million have gambled on the Web at least once.