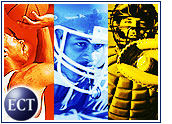 Quokka Sports, Inc. (Nasdaq: QKKA) fell 0.12 to 0.50 Tuesday after the onlinesports company said fourth-quarter revenue will be below previous estimates.
Merrill Lynch analyst Henry Blodget reportedly downgraded Quokka to neutralfrom accumulate following the news, saying the company will need to raiseadditional cash in order to stay in business.
Quokka said revenue for the quarter will total US$8.5 million to $9 million,resulting in a loss before interest, taxes, depreciation, amortization,restructuring charges and other expenses of $19.5 million to $21.5 million.
Management had expected revenue of $11 million to $12 million and a lossbefore items of $14 million to $15 million. Results will be reported January25th.
"Our revenue shortfall was the result, in large part, of delays in thetiming of sponsorships and other agreements for upcoming events, includingNCAA Final Four, Golf and Major League Baseball," said president and chief executive officer Alvaro Saralegui.
According to Saralegui, during the quarter, the company "eliminated non-core businesses" that were inherited in connection with the acquisition of Total Sports.
"While we effectively controlled our operating expenses during the quarter, we alsoincurred incremental unbudgeted expenses related to the integration of TotalSports," Saralegui said.
Saralegui added: "We are developing new sponsorshipproducts and continuing to improve operating efficiencies as we focus ourefforts on achieving profitability and position ourselves competitively in the sporting events we plan to cover in 2001."
Quokka, based in San Francisco, California, provides sports event coverage,analysis, forums and shopping over its Quokka.com Web site and its networkof sport-specific sites.
The company operates Golf.com, TotalBaseball.com,FinalFour.net and NBCOlympics.com, among others.