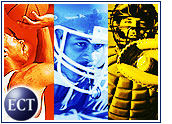 A California judge dismissed a US$100 million class action lawsuit against eBay on Thursday, ruling that the online auction house is not liable for the sale of phony sports memorabilia on its Web site.
Plaintiffs' attorney Jim Krause said he would argue at a hearing set for Tuesday before Judge Linda B. Quinn for a change in the ruling. However, Krause told the E-Commerce Times that "by tradition" it is extremely difficult to convince a judge to change a ruling once made.
At this level, "the case is lost," Krause said.
eBay chief executive officer Meg Whitman reportedly told investors during a conference call on Thursday that she was pleased with the decision.
Playing Fair?
According to Krause, the ruling "was a huge loss to all persons who expect honest and fair dealings on the Internet."
The lawsuit, which was filed last spring, alleged that eBay knew about the auctions of fake sports memorabilia, but did little to stop them. The suit also charged that eBay failed to provide, or require sellers to provide, certificates of authenticity (COA) as mandated by California state law.
The plaintiffs in the suit claimed that they purchased $10 million worth of phony memorabilia — including trading cards, baseball bats, and jerseys with forged signatures of pro athletes — through eBay. California state law would have allowed the plaintiffs to collect up to 10 times actual damages as a civil penalty.
For its part, eBay argued that it was not responsible for the sales because sellers were responsible for entering their own item description and choosing a category in which to list the merchandise.
Description Medicine
Krause agreed with eBay's contention that it did not create the item description, but said that under California state law, eBay should have been held liable because it provided the description to users via the Internet.
However, the court found that the allegation that eBay included the category "Sports: Autographs" as a choice was "insufficient to impose an obligation on defendant eBay to furnish a COA."
What's Next
After Tuesday's follow-up hearing, assuming that the ruling stands, Krause plans to file an appeal of the dismissal. Krause also said that he intends to request that the related case against eBay's co-defendants — the sellers of the allegedly fake merchandise and the experts who allegedly authenticated the items — be thrown out.
"eBay was the primary target," Krause said, noting that the other defendants did not have adequate financial resources to satisfy a judgment, leaving little reason for his clients to continue the suit against them.
The appeals process could take nine months to a year to complete, but Krause has not lost hope.
"I think I'm right," he said. "I just have to convince other people."