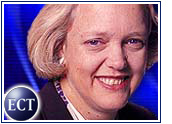 Delivering a much-needed lift to the struggling e-commerce sector, online auctioneer eBay (Nasdaq: EBAY) reported fourth-quarter results Thursday thatconvincingly beat analyst estimates and raised expectations for continued growth in the new year.
eBay stock, which closed up $3.63 at $46.88 the day before the announcement, continued to rise after hours, passing the $51 mark by 3:15 p.m. PST.
The company attributed the revenue gain to strong growth in its online auctions,noting that it hosted 79.4 million auctions during the quarter, up 94 percent from a year earlier.
Usage Booms
eBay also pointed out that a record 3.5 million users registered during the quarter, bringing the site's total to 22.5 million. Some US$1.6 billion in goods changed hands over the eBay site during the quarter, up 79 percent from a year earlier.
Despite bumps along the road that have included service outages,disputes with users over off-site deals, and fee structure changes,eBay continues to grow. The company has already expanded into Italy and Korea this year, and its U.S. site consistently appeared on lists of the busiest Web sites during the just-concluded holiday season.
"We believe it is fair to say that our brand has begun to transcend the Internet," eBay president and chief executive officer Meg Whitman told investors on a conference call. "We have created one of the strongest companies in recent times."
Impressing Analysts
eBay said revenue for the quarter rose to $134.0 million, up from $73.9 million in the year-earlier quarter. Net income totaled $23.9 million, or 9 cents per fully diluted share, up from $5.1 million, or 2 cents, in the 1999 fourth quarter. Analysts had expected the company to earn 7 cents per share.
For the year as a whole, the company earned $48.3 million, or 17 cents per share, on revenue of $431.4 million. Gross margin rose 11 percentage points from a year earlier, to 82 percent.
Revenue from traditional offline auctions "increased slightly" from the third quarter, eBay added.
Goldman Sachs analyst Anthony Noto said the results were "impressive," andraised his estimates for eBay's 2001 revenue and earnings.
While the stock is "expensive" relative to other e-commerce issues, "we arehard-pressed to find other technology stocks that have acceleratingfundamentals, strong top- and bottom-line visibility going into a typicallystrong [first] quarter, combined with a clear leadership position [a nearmonopoly] and global expansion potential requiring little capital," he wrotein a research note Friday morning.
Looking Ahead
Revenue for the first quarter of 2001 will likely be close to $150 million, eBay said, adding that yearly revenue could approach $665 million "with the combination of the anticipated share acquisition of [Korean company] Internet Auction and the strong momentum from the fourth quarter 2000."
Earnings per share for 2001 will be "generally in line" with analyst estimates, excluding the Internet Auction charges, eBay said — despite the fact that the planned $120 million acquisition will likely lower the year's earnings per share by about a penny and result in charges at closing of "less than $2 million." The acquisition is on track to close during the first quarter.
Goodwill of up to $80 million related to the acquisition will also affect results, said eBay, adding that it expects to amortize the asset over five years.