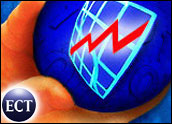 Yahoo! Inc. (Nasdaq: YHOO) rose 2.75 to 30.94 Wednesday, erasing an earlyloss following reports that analysts praised the company's decision tocharge listing fees for its auctions.
U.S. Bancorp Piper Jaffray repeated a buy rating on Yahoo!, saying theannouncement signifies the "start of monetization for a host of free Yahooservices" and could add 5 cents per share to earnings in 2001.
Merrill Lynch analyst Henry Blodget reportedly praised the company'sdecision as well, saying it could add US$30 million to $80 million, or 3 to 5percent, to 2001 revenue.
On Tuesday, Yahoo! said that beginning January 10th, it will charge auctionusers listing fees ranging from 20 cents to $2.25. Fees will be assessed ona sliding scale and will be based on the starting and reserve prices of theitems.
Merrill's Blodget reportedly said that while the change could drive someusers over to rival eBay, Yahoo! auctions will still be cheaper. Unlikeother sites, Yahoo! will not charge closing fees or take a percentage of anitem's final price.
"We believe a nominal listing fee will ultimately further improve thequality of our auctions service, thereby providing our buyers and sellerswith an even more compelling experience," said Yahoo! Auctions seniorproducer Brian Fitzgerald.
Fitzgerald added, "Because we are not taking a commission and the fee is minimal, we areincreasing the quality of listings while remaining price competitive andproviding sellers with a better margin."
According to analysts, Yahoo! needs new sources of revenue, as the onlineadvertising market remains in a slump.