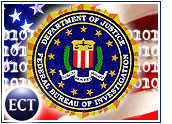 One eBay (Nasdaq: EBAY) user has been arrested and another indicted on fraud and money laundering charges stemming from uncompleted auctions on the site, company officials said Tuesday.
Federal Bureau of Investigation (FBI) spokeswoman Laura Bosley told the E-Commerce Times that the two investigations involve the alleged defrauding of nearly 250 individuals over the past 18 months and more than US$110,000 in losses.
Bosley said that the investigation is continuing and that more charges are possible.
eBay itself is not a target of the probe, which involves two different schemes run through the popular person-to-person auction site. According to spokesman Kevin Pursglove,the company has been cooperating with authorities investigating complaints against one of the two men since 1999, turning over bidding records and other information.
Two Separate Cases
The FBI and local police Tuesday arrested George Arthur Cruz of Artesia, California on mail fraud and money laundering charges. Users lost more than $70,000 on uncompleted purchases stemming from Cruz, authorities charged.
Cruz was released on bail after his arraignment, authorities said.
Police are also searching for Hen Ben Haim of Encino, California, who was indicted on similar charges stemming from more than 200 individual fraud complaints.
Sold, Never Delivered
Both cases involve auctions of computers and other equipment. Buyers were allegedly directed to mail checks to the sellers but never received their goods, and were unable to contact the sellers at the phone numbers provided through eBay.
eBay said it suspended Cruz from using the site late last year,while the probe into Haim's practices began in March of this year.
Assistant U.S. Attorney Dorothy L. Shubin reportedly called the scheme "an old-fashioned fraud using new technology: promising products and not delivering. Using the Internet gives the defendants the ability to reach victims all across the country."
Fraud Growing Problem
Many analysts believe fraud and the threat of losing money online poses the biggest single threat to the continued growth of e-commerce. A study released by McConnell International earlier this month called for new laws aimed specifically at cybercrime and stronger enforcement of existing laws as a way of boosting consumer confidence.
Web auction sites, on which transactions are carried out between buyer and seller with little interference or guidance from the site itself, have been the focus of a growing number of fraud complaints. The U.S. Federal Trade Commission (FTC) has said that the number of fraud complaints against auction sites grew from about 100 in 1997 to more than 11,000 in 1999.
However, Pursglove said that fewer than one-tenth of 1 percent of all auctions completed on eBay result in a complaint. He also noted that eBay users are covered for up to $200 worth of losses through an automatic insurance plan and that an escrow program is in place that enables users to hold the money in a neutral account until the transaction is completed.