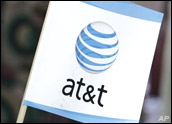 By some measures, AT&T's Q1 earnings report was lackluster, at best. The company reported a nearly 10 percent profit decline for the quarter ending March 31, compared with the same period a year ago. However, the drop was not as steep as analysts had expected.
Furthermore, certain segments of AT&T's business lines — namely its wireless and data operations — picked up significant momentum.
In this economy, that registers as a win for Wall Street, which was quick to show its appreciation. Shares of AT&T were up 80 US cents to $26.08 and hit session highs of $26.43 Wednesday after the telecom reported its quarterly earnings.
"Overall, the reaction to the news was somewhat positive as, outside of the weaker-than-expected revenue number, there were no real negative items in the report," Frederic Ruffy, the senior options strategist at WhatsTrading.com, told the E-Commerce Times.
Disappearing Landlines
AT&T's landline operations did not do well in Q1 — a showing that would not have come as a surprise, even if the economy were stable.
Strong performance in its wireless operations and data business line, however, allowed AT&T to report quarterly earnings of 53 cents per share — beating Wall Street analyst estimates by a nickel.
Total revenue for the quarter came in at $30.57 billion — down less than 1 percent from the same quarter a year ago. Analysts had been expecting $31.1 billion, Ruffy noted. Net income was $3.1 billion, a 9.7 percent fall from the $3.5 billion registered a year ago.
Revenue for wireless, though, was up 9.8 percent to $11.64 billion, compared with a year ago. There was also a 38.6 percent increase in wireless data revenue to $3.2 billion — more than double the total for the first quarter two years earlier. This growth was driven by messaging, Internet access, email, access to applications, and related services.
Wireless Subscribers
AT&T's earnings report was also telling in that it showed how dependent the company has become on its exclusive Apple iPhone franchise in the U.S. AT&T had a net gain of 1.2 million wireless subscribers, bringing the number of AT&T wireless customers to 78.2 million.
Much of that growth was tied to the iPhone 3G — about 1.6 million signed on this past quarter. Forty percent of them were new customers, Ruffy noted.
"Organic wireless subscriber gains were solid and helped by a significant increase in retail postpaid subscribers, which increased 24 percent from a year ago," he pointed out.
Like many tech companies, AT&T did not offer any guidance for the current quarter, Ruffy observed. "Investor attention now turns to AT&T's shareholder meeting on April 24."
Apple to the Rescue
The Q1 earnings will no doubt strengthen AT&T's resolve to close a deal with Apple to extend its exclusive contract for the iPhone until 2011, Greg Sterling, principal of Sterling Market Intelligence, told the E-Commerce Times.
"I think AT&T will have to offer Apple some fairly aggressive incentives for it to stick around," he added.
However, that might not be a smart move for Apple.
One of the few sectors bound to grow despite the recession is the smartphone market, said Sterling. Carriers have long taken note of consumers' love affair with these gadgets, and several rivals to the iPhone — such as the Palm Pre — are coming out.
"There will be more options for consumers, and many of these new smartphones will offer the samefeatures and functions that the iPhone does," Sterling noted. "So, that is why it is important for Apple to get its device out in front of consumers" who may not want to spend the termination fees in order to jump to AT&T to get the iPhone.
If Apple does decide to expand its universe of carriers, AT&T is bound to suffer, but Sterling thinks such a blow would be diffuse. "Yes, its legacy voice business is suffering, but AT&T has done a good job of diversifying its operations."