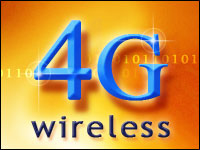 AT&T has picked Ericsson and Alcatel-Lucent to build its new LTE (Long Term Evolution) high-speed wireless network. It is a significant win for the two companies, which are developing a similar network for Verizon, as it solidifies their hold on this particular piece of the wireless infrastructure market.
For consumers, an LTE network with a specific delivery date can only be considered a win as well. LTE — or "4G," as it is sometimes called — allows users to surf the Web from smartphones more efficiently and cheaply, as well as to download higher data levels of music or other content.
The news is bound to be met with relief by Apple, as well as AT&T's own shareholders. AT&T has been plagued by reports of a shoddy network unable to adequately support iPhone users — and possibly unble to take on additional traffic generated by the upcoming iPad.
"As an iPhone and soon to be iPad user I am very happy AT&T is doing this because certainly the demand is there, says Amir Makleff, president and CEO at BridgeWave, a provider of 4G backhaul to enable WiMAX and LTE networks. "AT&T has been reported to have a lot of issues with performance. LTE is a way for AT&T to deliver higher performance at a lower cost," he told the E-Commerce Times.
AT&T's LTE network is scheduled to start operating in 2011. Verizon, which awarded its business to Ericsson and Alcatel last year, plans to roll out its LTE network this year.
AT&T Wireless was unable to return a call from the E-Commerce Times in time for publication.
Marching Forward
While the news is clearly good for the telco and wireless community, as well as consumers, says telecom industry analyst Jeff Kagan, in many ways it was largely assumed that AT&T would push forward with LTE sooner or later.
Wireless is on a steady march forward that no recession will be able to dent, he told the E-Commerce Times.
"Now telecom providers are describing plans for their next steps even before the previous step has been fully deployed," he said.
LTE is just one of those steps — but at this point in time, it is considered a huge one for the industry.
LTE is not the only next-gen infrastructure that is being deployed right now.
Sprint is building out its next-gen network using WiMax. It merged its 4G unit, Xohm, with Clearwire to form a new company — which took the "Clearwire" name — with the goal of speeding the deployment of WiMax. Sprint has rolled out WiMax in several cities so far, including Atlanta, Philadelphia, Baltimore, Houston and Washington, D.C., as well as the San Francisco Bay Area.
Verizon, for its part, is planning to deploy LTE beyond its current network coverage areas, providing access in some rural areas that are currently not served.
Pulling Up the Rear
In light of its competitors' investments in developing 4G networks, AT&T appears to be lagging considerably.
The company clearly has been reluctant to take the 4G step, Makleff noted. "Clearwire and Sprint have been the first movers, and Verizon has been the most aggressive of the LTE folks," he said. "However, I think AT&T is realizing that the landscape has changed, and they need to move quickly."
"Basically, the decision to pursue a potentially faster — if considerably more expensive — 4G rollout indicates just how badly poor 3G performance has hurt AT&T and, by comparison, helped Verizon," Charles King, principal of Pund-IT, told the E-Commerce Times.
Without higher-quality network performance and capacity, AT&T's sales and reputation will likely suffer as increasingly bandwidth-intensive devices like the iPad come to market, he added.