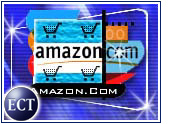 Amazon.com (Nasdaq: AMZN) lost 80 U.S.cents to $16.12 in morning trading Tuesday, after Prudential Securitiesrepeated a sell rating on the e-tailer's shares, saying they are a"high-risk" investment, and put a price target of $9 on the stock.
Amazon's base of more than 32 million customers, considered by many to beamong the e-tailer's most valuable assets, might not be as strong as someinvestors think, according to Prudential analyst Mark Rowen.
"We have become increasingly concerned that Amazon.com's customers areturning out to be far less loyal than once assumed," Rowen wrote in aresearch note. "Therefore, we believe that the value of Amazon's customerbase may be depreciating at a much faster than expected rate."
While Amazon added 3 million new customers in the first quarter ended March31st, Rowen wrote, the company lost an estimated 2.3 million activecustomers in the same period.
"The average lifespan of an Amazon.comcustomer is approximately 17 months," wrote Rowen, compared with 51 monthsfor an average direct-mail catalog company.
"Viewing the data from a different angle, Amazon.com had 15.9 million activecustomers in the first quarter of 2000, and we estimate that a whopping 50percent have not returned to make a purchase in the subsequent 12 months,"Rowen wrote.
Also Tuesday, a Reuters report said Amazon chief executive officer JeffBezos has filed with U.S. securities regulators to sell 300,000 of hiscompany's common shares, worth almost $5 million.
Last month, Amazon reportedly confirmed that U.S. Securities and Exchange Commission was looking into stock sales
made by Bezos inFebruary, just ahead of a negative report on the company from a LehmanBrothers bond analyst.