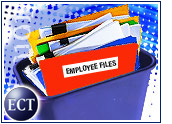 What if there's a second Internet bubble and no one wants to get inside? It could happen. In fact, the number of people who wince, shudder or burst into tears when someone mentions the idea of going to work for a pure-play Web company is growing dramatically.
I was one of those people who thought that this was truly a New Economy. That it would chug along famously through thick and through thin. And when you think about it, why should I have been any different from the millions of others who bought the myth whole cloth?
Truth be told, what hurts is not that I bought into the myth, but that it turned out to be a myth at all.
The question is, are there any believers left out there?
Buyer's Remorse
Several of my friends are among the latest dot-com casualties. Each of them left good jobs in the old economy to join a startup dot-com. And as of right now, not a single one of them would ever go back to the New Economy.
Right now they're bitter, and not without reason. The company they worked for told them at 3 p.m. on a Friday via conference call that their jobs were gone. Their checks? Not exactly in the mail. The company will probably file for bankruptcy, they were told, so don't hold your breath.
Will the sting wear off over time? Yes. But something tells me my friends might not be too eager to get back into the shark-infested waters any time soon.
Of course, this scenario has played out thousands of times, each time leaving a percentage of the laid-off workers thinking they would never, ever go back.
Help Not Wanted
Now, none of this will matter if there is no money to rebuild the New Economy. Every time a dot-com folds — one company reported that another 55 went that route in April — venture capitalists somewhere take a loss.
I'm not about to suggest starting any support groups or throwing any networking parties for the VCs. They'll be okay.
On the other hand, those who won't be all right are the potential startups that are starving for cash just to get to a position where they can burn someone's else capital.
These are some believers who need some followers.
Money Anyone?
Last month, a former Amazon executive, now the head of a venture firm called FastAngels, came to Boston, Massachusetts, to tout his idea: investing US$50,000 to $1 million in early stage technology startups. He's got $20 million burning a hole in his pocket, apparently.
The fact that this little tour made news at all is indicative of how far back the pendulum has swung. This guy is trying to go against the flow at a time when VCs are buying money markets and bonds. He supposedly has 20,000 e-mails, most with business plans attached, waiting in his in-box.
But someday the burn could wear off for venture capitalists, too. And the same goes for their distant cousins, the private investors who bought Internet stocks and got flogged for doing so.
They'll get back into the water, too, toe-dipping at first, then eventually jumping back in. Assuming one thing: There has to be something to jump into.
Off the Clock
There are still many people who believe that all the shaking out is a healthy part of the growth of the digital economy. Maybe they're right. But as I've said before, not all the ideas that have failed are bad. Some were victims of bad timing.
So when the right project comes along, you have to wonder whether it will be too late to get the workers, to get the capital, to capture the public imagination. When the right project comes along, will people have stopped believing, like kids outgrowing Santa Claus, in the possibility of the New Economy?
What do you think? Let's talk about it.

---
Note:
The opinions expressed by our columnists are their own and do not necessarily reflect the views of the E-Commerce Times or its management.
---