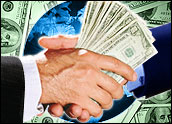 Xerox said Monday that it will buy Affiliated Computer Services for US$6.4 billion in cash and stock.
Best known for its copying and printing business, Xerox said the move answers a growing need to better link document management to the processes that produce them — including finance, human resources, transaction processing and customer support.
There's demand for a "deeper connection between back office document infrastructure and front-office business process services," Xerox CEO Ursula Burns said in conference call with analysts Monday.
With the acquisition, Xerox becomes the latest in a string of technology companies to step outside its immediate comfort zones to diversify. Last week, Dell announced a plan to buy IT provider Perot Systems. Adobe also announced its intent to step into Web analytics with the purchase of Omniture.
Details of the Acquisition
Xerox will pay ACS stockholders 4.935 Xerox shares and $18.60 in cash for each ACS share, the equivalent of $63.11 a share.
Upon approval by regulators and stockholders of each company, the deal would result in a $22 billion global enterprise spanning the fields of imaging, document management, information technology and business process support. Xerox described ACS as the world's largest diversified business process outsourcing firm. ACS reached a revenue total of $6.5 billion in fiscal 2009 on 6 percent growth.
The acquisition is expected to close in the first quarter of 2010, and Xerox expects the deal will result in cost savings of up to $400 million in the first three years.
Xerox stock was off in midafternoon trading, while ACS was trending upwards.
A Good Fit?
Whether the two companies have enough in common to make a good marriage is uncertain.
"You've got a copier company buying an outsourcing company," AMR Research analyst Phil Fersht told the E-Commerce Times. "It's hard to see the operational synergies."
However, ACS CEO Lynn Blodgett said on the conference call that during initial discussions with Xerox, it became obvious that its technology and reach would be an outstanding match for ACS.
"There are so many things that could be done using the technology and using that infrastructure that would help us reduce our costs," Blodgett said.
It will be important for Xerox to keep key ACS leaders from cashing in on the buyout as the company seeks to up its game against key Indian outsourcing competitors, Fersht observed.
It may be necessary for Xerox to look for a second-tier IT firm to complete a suite of offerings that would make it a more attractive option for firms lured by low-cost overseas operators, he added.