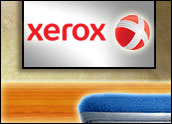 Bidding to reshape its image, Xerox is launching a major rebranding effort meant to encourage business customers to think of it as an innovation company, not just a leading maker of copiers.
The new image is meant to reflect the needs of today's business and to be "a bit less formal, a lot more lively with links to our heritage and a nod to the future," said Xerox President Ursula Burns.
The change comes after five years during which Xerox has invested in advancing its printing and copying franchise to include broader document-management and security offerings and a host of other software and services. During the first nine months of 2007, services contracts generated $2.5 billion in future revenue for the company, up 8 percent from the previous year, Burns noted.
Differentiating Itself
Xerox's new brand is meant to reflect how it has evolved into a "customer-centric company built on a continuing history of innovative ideas, products and services that meet the needs of businesses small to large," the company said.
Though it has long been a major technology innovator — its Palo Alto Research Center, or PARC, helped spark the networked computer revolution — and patent-winner, Xerox is often most associated with the relatively mundane photocopier machine. In fact, the company has long had to fight the use of its trademark company name as a generic stand-in for photocopies, as in "Xerox this page 10 times."
"We have transformed Xerox," said CEO Anne Mulcahy. "Our new brand reflects who we are, the markets we serve and the innovation that differentiates us in our industry."
The branding effort is highlighted by a new corporate logo, a lower-case depiction of the Xerox name in a bright red color alongside a sphere-shaped symbol sketched with lines that link to form an "X," which the company said is meant to symbolize its connections to its customers.
In late trading Monday, Xerox shares moved up modestly, rising 2 cents to US$15.13.
Brand Identity
Xerox has also launched 100 products in the past three years, the most in any such time frame in its history, she added, including energy-saving copiers and machines that automatically recycle paper and ink.
The rebranding kicked off Monday with a webcast to Xerox's 57,000 employees around the world. The new logo will first appear on the company's revamped Web site and, over the next 18 months, the company will change its logo on its products, facilities, vehicles, and marketing materials.
Keeping the Name
The change may prove wise if executed well because, in the popular consciousness, Xerox remains synonymous with the relatively pedestrian process of making paper copies.
"Xerox is making a wise move by changing the logo because most consumers do view the company as a copier company," marketing expert Shama Hyder, founder of branding firm After the Launch, told the E-Commerce Times. "However, it's not so simple. Although changing the logo will help, rebranding efforts will need to be much more in-depth. Xerox might have been smarter to change their name along with their logo."
Others, however, think Xerox got it right by keeping its name intact, even though it may hinder its efforts to be thought of as more than a copier company.
"So long as Xerox is just changing its logo — and not its name — this is a good move, and one that's long overdue," said Mark Holoweiko, president of marketing firm Stony Point Communications. "The current logo, which is simply the word Xerox in red capital letters, has nothing in the way of graphical style or substance to commend it. Nor does it convey any particular message about the company's products, whether copiers or otherwise. Therefore, the logo itself carries relatively little brand equity."
Most of the company's brand power lies in its name, Holoweiko added, a reality underscored by the fact that it became both a noun and a verb in common usage.
Whether or not the rebranding will succeed is another question, he added. "Rebranding should create a clear, striking image of Xerox in the minds of business executives and consumers, and differentiate the company from competitors. Since we have yet to see any attempt at that, it's too soon to predict the effort's likelihood of success or failure."
'A New Positioning'
Other companies with legendary technology brands have struggled with how to evolve with changing times, said Larry DeGaris, an associate professor of marketing at the University of Indianapolis.
Kodak, for instance, had massive brand power but failed to respond to the digital photography movement fast enough.
Xerox's move reflects the fact that with digital and electronic formats, "printing has become a relatively minor component of document production," DeGaris told the E-Commerce Times. "Today's photocopiers are also scanners, printers, fax machines and Web browsers. So, the new logo is indicative of a new positioning, from a printing company to a document management company. As a document company, Xerox can provide consulting and support services in addition to the hardware and machines, which holds a tremendous amount of growth potential unlike the stagnated hardware and machine market."