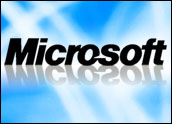 Microsoft announced Tuesday that it will combine its Officeproductivity Web apps suite and integrated Shareport, Exchange andLync services into a monthly package service beginning next year.
The service, called "Office 365," is a significant step-up from theWeb-based productivity apps Microsoft previously offered under theWindows Live banner.
Office 365 is essentially a turnkey productivity solution, in somerespects similar to Google Apps, that hinges on the ability to useMicrosoft's tried-and-tested productivity suite, complete with accessto email, collaboration and communication servers, without having tomanage any infrastructure.
By comparison, Office Live simply allowed users to create onlineworkspaces to share documents and collaborate using Office Web Apps.
Beta Stage
The new service is a clear response to Google's hosted productivitysuite for small and medium-sized businesses, said Wes Miller, ananalyst for Directions on Microsoft.
"I think it's a good countermove to Google," he told the E-Commerce Times.
It draws on business users' familiarity with Office while taking awaythe hassles of having to manage infrastructure, he said.
Google did not respond to a request for comment by press time.
The service will not be available until next year, but it entered alimited beta test on Tuesday with a few thousand organizations in 13countries. It will be available in 40 countries next year, Microsoftsaid.
When it is, Microsoft claims small businesses with fewer than 25employees will be able to set up and begin using Office Web Apps,complete with the use of Exchange, SharePoint and Lync services, in 15minutes.
Two Sizes Fit All
Office 365 will come in two primary versions: one for smallbusinesses and one for enterprises. Each version includes a 99.9 percentuptime guarantee, Office Web Apps, Exchange e-mail with 25 GB ofstorage, SharePoint for team sites and public websites and Lync forinstant messaging and online meetings.
The small-business version, targeting individual users up to officesof 25 employees, will cost US$6 per user but will not include dedicatedIT support.
The enterprise version, priced at $24 per user, includes a license forOffice Professional Plus as well as around-the-clock phone support, Web and e-mail support, and the ability to use ActiveDirectory deployments.
Microsoft also announced an enterprise option to keep workers withoutdedicated computers connected to email and basic resources beginningat $2 a month, as well as a plan for schools that focuses on access toemail, documents and calendars.
It's unclear when that service will become available.