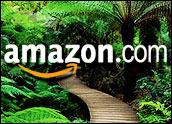 Amazon.com will more than double the revenue share for periodical publishers as it faces rising competition, at least in public perception, with Apple and other rivals for magazine and newspaper publications.
The move comes shortly after Amazon announced that it would make magazines and newspapers available to users of its Kindle apps — software that runs on other mobile devices, including the iPad, and accesses content through Amazon's Kindle store.
The new 70-30 split, with publishers getting the lion's share, mimics the deal Apple offers to content providers for its iBookstore and goes into effect Dec. 1. Currently, publishers get a 30 percent share of revenue.
Amazon's split is exclusive of delivery charges, which depends on file sizes. On its website, Amazon offers the example of a US$9.99-per-month newspaper that delivers nine megabytes of data a month. The delivery charge would be $1.35 and the net publisher share $6.05.
Facing the Music
Since the introduction of the iPad, Apple has captured much of the public imagination when it comes to periodical publishing, with high-profile content providers such as Wired, GQ and Sports Illustrated trumpeting their arrival on the device.
Last month, Barnes and Noble introduced its own color e-reader with a newsstand section devoted to magazines and newspapers.
"I think Amazon is facing up to certain competitive realities and their understanding that the Kindle and the Kindle platform is nothing more than a useless piece of plastic without the content," Michael Norris, senior analyst with Simba Information, told the E-Commerce Times.
Amazon had publishers in mind when it made the decision, Kindle Periodicals Director Pete Larsen said. The company did not return a call seeking further comment.
The move was the right thing for Amazon to do, said Gerry Purdy, principal analyst for MobileTrax.
"I think that Amazon is going to continue to be a leader in the business models associated with publishing," he told the E-Commerce Times. "I don't think they're scared at all about Apple."
Goodbye Web, Hello Apps?
The migration to digital apps instead of physical copies of periodicals — reinforced recently by U.S. News and World Report's announcement that it would cease print production next year and USA Today's plans to de-emphasize print — could mean much of the best content currently available on the Web goes behind a paywall of sorts, Purdy said.
App purchases are a much more friction-free form of commerce than traditional subscriptions, but publishers of commodity information — sports stories, run-of-the-mill news, for instance — may still find it hard to get readers to buy a digital app.
However, much of the best content may well disappear from the Web in the next 10 years, Purdy speculated, leaving behind promotional websites that point to various app stores.
"I think the issue is, if you have significant intellectual property in the content, you will still find people willing to pay," he said. "And there will always be long-tail valued content that you can't get anywhere else that people will be willing to pay for."