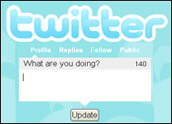 Twitter Cofounder Evan Williams has stepped aside as CEO and placed Dick Costolo, the man he hired as chief operating officer, in charge of the company as it works to build its business model.
"I am most satisfied while pushing product direction," Williams wrote in a blog post announcing his decision. "Building things is my passion, and I've never been more excited or optimistic about what we have to build."
Aside from working on "product strategy," it wasn't entirely clear what Williams' role will be in running the company.
Twitter did not respond to a request for comment by deadline for this article, but Wedbush Securities analyst Lou Kerner told the E-Commerce times that Williams will retain his board seat and continue to exercise a cofounder's vision over the big picture of Twitter as a business.
Changing Roles
"[Williams] is widely considered a product visionary," Kerner said.
However, as Twitter evolves — going from 3 million registered users when Williams took over the CEO role two years ago to 165 million today — the CEO job is less about vision and more about executing business strategy.
That's something Costolo excels at. A serial entrepreneur who sold his latest company, FeedBurner, to Google for a reported US$100 million in 2007, Costolo is well-regarded in the tech business community, Kerner said.
He also holds Williams' trust.
"During his year at Twitter, he has been a critical leader in devising and executing our revenue efforts, while simultaneously and effectively making the trains run on time in the office," Williams wrote in his blog post.
Bigger Vision
Perhaps even more importantly, said Forrester analyst Augie Ray, he shares Williams' passion for Twitter as a world-changing company.
"They're generally of one mind around what Twitter is," he told the E-Commerce Times.
In the blog posting announcing his decision, Williams said that he wants to make sure Twitter can meet its potential as a business, but also as a company that can "retain its culture and user focus while having a positive impact on the world.
"This is no small task," he wrote.
Product Focus
That desire led Williams to make a decision to return to his roots guiding Twitter's user- and developer-facing technologies, and that bodes well for Twitter users and the company's business model alike, Kerner said.
While companies such as Facebook and Digg have struggled with user complaints about interface overhauls and service changes, Twitter recently rolled out a site redesign that's met with acclaim.
If Twitter can maintain its user-focused approach while folding in money-making opportunities, the company stands to do well, he said.
Twitter's recent growth has been accompanied by an accelerated effort to find ways to make money off of the 90 million daily tweets coursing through the company's servers.
Monetization Efforts
Twitter recently introduced promoted tweets, trends and accounts in an effort to give advertisers a more reliable platform for getting their messages out.
Costolo's elevation likely means a greater emphasis on monetizing the tweet, but not at the cost of trashing Twitter's approach to users.
"I think these guys have been around enough to appreciate that the user has to be at the center of all your efforts," Kerner said.