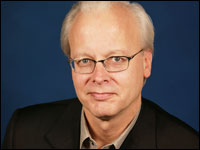 Ray Ozzie is out as chief software architect at Microsoft, opening abig void through which analysts are tossing innumerable opinions regardingwhat the departure means for the company.
Ozzie's role was frequently seen as being Bill Gates' successor as thecompany's visionary technologist, a foil to CEO Steve Ballmer's purelybusiness-minded approach.
In a letter to employees Monday, Ballmer praised Ozzie as theleader who helped push Microsoft wholesale into the cloud but addedthat with much of that work done, Ozzie had decided to step down.
Ballmer said he doesn't plan to replace Ozzie, sparking considerabledebate about where the company's technology vision will come from now.
"The problem with Microsoft is that in the early days, Bill Gates ledfrom his heart," Paul Saffo, managing partner at Discern Analysticstold the E-Commerce Times. "Steve Ballmer is all head and no heart."
Ozzie Bio
Ozzie joined Microsoft as chief technical officer in 2005 after thecompany acquired Groove Networks, a collaboration software business hehad founded nearly a decade earlier. He became chief softwarearchitect in 2006, when Gates stepped back from day-to-day supervisionof Microsoft, and was placed in charge of overall technology strategyand helping push high-priority projects to market.
He previously helped found the company that developed Lotus Notes, thee-mail program.
In 2005, he famously penned a memo to Microsoft leaders addressing thethreat of Internet-based and ad-supported services to Microsoft'sbusiness model and urging the company forward in meeting thosechallenges.
Ballmer credited the memo and Ozzie's approach with helping catalyzeMicrosoft's move to cloud-based applications with the Windows Azureplatform for hosted applications, Windows Live and cloud-basedenhancements to SharePoint and Exchange.
Impact Muted
Ozzie clearly had a huge impact at Microsoft, Saffo said.
"He did more to give the company architectural discipline thananyone," he said. "Ray Ozzie more than anyone else represented someonewho was dragging Microsoft's technology into the future."
However, Ozzie's potential impact was hobbled from the start by Microsoft'sculture and internal divisions, said Michael Gartenberg, an analystwith Gartner Research."In many ways, he was brought in to be the technical heir to Bill [Gates],"Gartenberg told the E-Commerce Times. "It's not clear an outsidercould do that job."
No Replacement
And it doesn't appear anyone will.
Ballmer said in his email that the company has strong technicalleaders in its various business groups and that the chief softwarearchitect job was a unique one.
That could mean Microsoft's technology vision will get pushed down tothe offices of each product group, said Al Hilwa, an IDC analyst andMicrosoft veteran."From reading the latest org chart, Microsoft has organized intomultiple autonomous groups and probably has decided that itsbusinesses are too diverse to have an overarching chief softwarearchitect," he told the E-Commerce Times. "Now they have multiplepresidents likely with their own architects, and so a chief softwarearchitect might end up being chief of very little."
Ozzie's Future
In his e-mail, Ballmer said Ozzie will remain with Microsoft for awhile to help transition his team. He will focus on unspecifiedentertainment projects while winding down his time with the company.
Then what?
Saffo, who has known Ozzie for years, said he expects a start-up looming.
"In the last couple of years, it was increasingly obvious Ray'stalents were being wasted," he said. "I'm sure he has a whole bunch ofnew ideas inside of him."