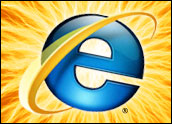 It comes as no surprise that venerable Microsoft's Web browser, Internet Explorer, has been on the decline in recent years, bowing under pressure from rivals like Firefox and Google Chrome. However, Web analytics firm StatCounter says while it's still the most-used browser family on Earth, fewer than half of Web users are now on it.
The company said its research shows that worldwide use of Explorer dropped to 49.87 percent in September, with Google's Chrome picking up most of those users, overtaking Apple's Safari browser to triple its share to 11.54 percent from 3.69 percent the previous year.
Mozilla's Firefox remains the number two browser globally, at 31.5 percent.
Impact of Antitrust Ruling?
Explorer's global dip could be the result of a European Commission antitrust action that required Microsoft to offer users a choice of browsers, according to Dublin-based StatCounter CEO Aodhan Cullen.
Explorer took the biggest hit in Europe, declining to 40.26 percent from 46.44 percent last year.
In North America, Explorer avoided its global fate, holding 52.3 percent of screens, with Firefox at 27.21 percent and Chrome at 9.87 percent.
Cullen called Explorer's trip across the statistical equator a "milestone in the Internet browser wars."
Stats Vary
Although browser analytics show a clear downward trend for Explorer, market share statistics from various companies are all over the board.
For instance, W3 Counter reported Explorer with 43.3 percent market share in September, while StatOwl showed the browser at 62.68 percent during that month — a slight increase from July. That's a nearly 20-point spread.
StatCounter's number for Wednesday was 49.56 percent, while rival Clicky counted Explorer at 51.6 percent.
Sample Size Key
Cullen's firm's numbers are more reliable, the StatCounter CEO said, because of the sample size — 15 billion monthly page views over 3 million websites.
"We're not aware of any other service that has that sort of sample size," he said.
Explorer, he said, has steadily declined since well before StatCounter began tracking browser usage two years ago.
"There's been few months that it has actually gained share, and when it has its lost it the next month," he said.
Will IE9 Help?
Browser share is important because, among other things, it allows the publisher to highlight their own products and services, such as revenue-generating search services.
The numbers do underline the need for Microsoft to deliver a first-class browser in IE9, Ray Valdes, an analyst for Gartner Research, told the E-Commerce Times. "Fortunately for Microsoft, it looks like IE9 is close to the mark."
The browser, released in its first public beta form last month, has received generally positive reviews for its speed and emphasis on disappearing into the background and allowing sites to shine through.
Last week, Ryan Gavin, Microsoft's senior director of Explorer business and marketing, posted that the beta had been downloaded 6 millions times as of Oct. 1 and was in use by about a quarter of one percent of Web users.
But will it help Microsoft start clawing back to the top of the heap, where it once held a virtual monopoly on PC-based browsing and as recently as two years ago controlled 67 percent?
"I don't think it will reclaim marketshare that is already lost, but it will solidify the share that remains," Valdes said.