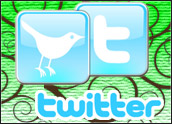 After much speculation, Twitter CEO Evan Williams confirmed on the microblogging site's own blog that it has closed a "significant" round of funding. Williams didn't cite the dollar amount, but it has been widely reported that six investors are prepared to pump close to US$100 million into the company, giving it a $1 billion valuation.
The investors are, according to Williams, Insight Venture Partners, T. Rowe Price, Institutional Venture Partners, Spark Capital and Benchmark Capital. Twitter did not return the E-Commerce Times' call requesting comment in time for publication.
This is not the first time the investment community has embraced Twitter. In February, the company raised about $35 million, much of it still reportedly waiting to be used.
This latest round of investment, though — and the $1 billion valuation for a company that has yet to earn any significant revenue — raises the question whether Twitter and other Internet phenoms, such as Facebook, YouTube and MySpace, are on their way to becoming the next investment bubble.
Dot-Com Bomb Redux?
After all, it happened a decade ago. Are conditions ripening for something like it to happen again?
It's too early to say, Peter Cohan of Peter Cohan & Assoc. told the E-Commerce Times.
Even if this category is headed for an implosion, Twitter has been prudently valued, Cohan maintained, when it's compared to other networking sites, such as Facebook. That's in spite of the fact that Facebook has managed to start earning some revenue.
"Measuring value on a per user basis, Twitter is in fact cheap — at $20 per user compared to $33.33 per user," said Cohan.
Facebook has a $10 billion valuation, based on its 2009 estimated revenue of $500 million — mostly from advertising — according to Cohan's calculations. Twitter has about 40 million to 50 million users; Facebook has 300 million users.
An evaluation of $1 billion for Twitter might be too low, suggested Scott Testa, a business professor atCabrini College, considering the site's popularity and traffic, which comScore places at close to 60 million visitors a month.
"The pricing is justified, based on the latest round of financing closed by Facebook and other networking properties," Testa argued.
Furthermore, this generation of tech investment is different from 10 years ago, because the funding comes from institutional sources.
"You don't see the funny money being thrown around like we did in the 1990s," noted Testa.
Revenue Strategies
Of course, Twitter is earning no revenue — and according to a recent press conference, the company does not have immediate plans to implement advertising on a wide scale.
Still, it will eventually embark on some kind of path to bring in money. When it does, incorporating revenue into the valuation will shift the dynamics in the industry somewhat, Cohan acknowledged, running down the numbers in his blog.
Right now, Facebook's revenue translates into $1.67 per user, he wrote. Therefore, "Twitter could justify a $1 billion valuation if it could generate $83.5 million in revenue."
Twitter could pursue two possible strategies to reach that magic number, Cohan suggested in his post. It could allow advertisers to target its users based on their location, gender or bios. Or, it could try the Google approach: "placing unobtrusive text advertisements next to Twitter Search results."
Show Me the Money
The fact remains, though, that Twitter has yet to earn any revenue, Jason Fried, founder and CEO of 37signals, a Web-based software company, told the E-Commerce Times.
The amount of money being pumped into Twitter is indicative of a worrisome trend, he said.
"The tech industry is starting to get in the wrong mindset again — which is companies being valued on things outside of traditional metrics like revenues or profits," Fried observed.
"Now it's based on how much other investors want to invest or page views or celebrity usage," he noted. "You don't see this in other industries except perhaps biotech, so I don't understand why the tech industry thinks the rules are different for it."
The bottom line? "If you don't have revenues, you don't have profits," Fried concluded. "Maybe one day you will, but right now you don't — so what is up with these crazy numbers?"