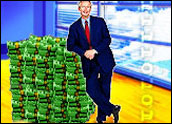 A private equity consortium led by Affiliated Computer Services (ACS) founder Darwin Deason has boosted its bid to buy the company and take it private, hoping to convince shareholders to sell despite the reluctance of the information technology services firm's board of directors.
Deason and Cerberus Capital Management raised their bid to take the company private to US$6.21 billion, or $62 per share, up from an earlier offer of $59.25 per share made late last month.
ACS is best known as the country's largest processor of student loan payments and related banking services, but also offers a host of other IT-related support services, such as off-site data storage and hosting. It also operates the E-ZPass automated toll-collection system for the state of New Jersey and similar systems for other localities around the country.
The Proposal
The company announced in March that it had hired investment banking firm Lazard to help it explore various strategic options, including a possible sale of the company.
ACS' board of directors has refused to negotiate directly with Deason and Cerberus and has said it would not authorize access to non-public financial records, which would presumable allow the group to perform additional due diligence on the possible deal.
The new offer is a 21 percent premium over the stock price on the day the first offer was made, said Deason, who remains the chairman of the company's board.
"We believe that our proposal is in the best interests of the company and its public shareholders and that the shareholders will find the offer attractive," Deason wrote in a letter to the board.
ACS shares were up more than 3 percent in morning trading Monday to $60.70.
Pushing for the Sale
The ACS board and a special committee established to help explore options refused to "engage [the investment group] in any constructive fashion," Deason stated in his letter.
The latest offer, he added, is "fully priced and is the highest price we are prepared to pay based on the information made available to us to date."
Deason and Cerberus are prepared to open a 40-day window for competing offers and to give the investors a chance to market their offer to shareholders directly, Deason stated. He cited a recent rash of private equity deals that have seen prices driven up by competing offers.
Deason founded Affiliated in 1988 to provide bank-transaction processing services. The firm rapidly expanded during the 1990s to take on complex tasks such as Medicaid reimbursement check processing and outsourced data management for other government agencies.
ACS flirted with a sale that would have taken it private last year, but could not come to terms on a final deal with a group that included Texas Pacific Group, Bain Capital, Silver Lake Partners and Blackstone Group.
Buying Low?
Following the first offer from Deason and Cerberus, some ACS shareholders filed lawsuits aiming to stop any deal from being finalized on the basis that the offer was too low. In fact, ACS has seen its results dinged lately by external factors such as a stock options backdating probe that chopped its stock price by 17 percent during 2006 and resulted in the departure of its CEO and CFO.
While ACS did not appear to have multiple suitors yet, some strategic partners may be interested in its portfolio of existing outsourcing contracts and its expertise in some verticals. For instance, IBM's services might benefit from such a buy, said A.G. Cowen analyst Moshe Katri.
Still, it's unclear if ACS warrants a higher price given its recent stock performance history and challenges to maintain both growth and profitability at a sprawling company that includes a host of different divisions. "This seems to be a fair price," Katri told the E-Commerce Times.