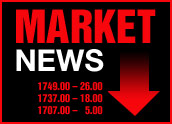 A lukewarm outlook from tech bellwether Cisco Systems helped spark selling on Wall Street today.
Major averages moved lower after investors digested Cisco's forecast for the current quarter and all of 2005.
Cisco Outlook
The Dow lost 60.52 points, or 0.56 percent, to finish at 10,664.11, while the tech-laden Nasdaq felt the brunt of the sell-off on a percentage basis, losing 34.13 points, or 1.64 percent to 2,052.55. The S&P 500 lost 10.31 points, or 0.86 percent, to close at 1,191.99.
Cisco, which disappointed investors by predicting sales would be flat or only slightly higher going forward, lost nearly 2 percent on the session. Krispy Kreme was another big loser after it announced plans to slash as much as 25 percent of its staff to cut costs.
One notable exception was Hewlett-Packard, whose shares rose 7 percent over the day after the ouster of longtime CEO Carly Fiorina was announced before markets opened.
The U.S. dollar gave back more of its recent gains against overseas currencies, falling 0.3 percent versus the euro and 0.1 percent against the yen.
Oil Prices Up
Strong economic data and tough talk on deficits in recent weeks have driven the Greenback higher, but analysts say the fact that President Bush's budget includes making expensive tax cuts permanent suggest deficit reduction is not as high a priority as overseas investors would like.
Oil futures moved modestly higher, gaining 6 cents per share to US$45.46 a barrel after the Energy Department reported that U.S. fuel supplies fell sharply last week. Once again, the exact amount of the drop was in dispute, with the private American Petroleum Institute said crude stores fell by 4.2 million barrels, while the federal agency said the drop was around 1 million barrels.