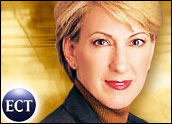 Carly Fiorina, whose name and image became synonymous with tech giant Hewlett-Packard after she overcame numerous challenges to close the acquisition of Compaq three years ago, stepped down today from her CEO and chairman of the board posts at HP.
The announcement that Fiorina had resigned after 5 1/2 years as CEO was made by the HP board of directors, who essentially forced her out after a lengthy power struggle that dates back to the Compaq merger in 2002 and now focuses on how to position HP to deal with new competitive threats from Dell and others.
"While I regret the board and I have differences about how to execute HP's strategy, I respect their decision," Fiorina said in a statement.
Interim CEO
HP said CFO Robert P. Wayman will serve as interim CEO while a search is conducted for a new CEO, and that Patricia C. Dunn, an HP director since 1998, has been named non-executive chairman of the board.
Perhaps sensing the move would mean better days ahead at HP, investors scooped up the company's shares, sending them higher by more than 7 percent in morning trading today to US$21.61.
Others thought the move represented an even more stark future for HP.
Fiorina's leaving "represents the end of the road for HP," said Peter S. Cohan, executive-in-residence at Babson College in Wellesley, Massachusetts. "HP's directors need to recognize that HP cannot survive as a stand alone company as is. Its board needs to sell off the unprofitable pieces of the business and use the proceeds to invest in its one profitable line — the printer business."
Cohan told the E-Commerce Times that HP could follow IBM's lead and sell its PC business, then spin off its storage and services businesses as well, as it sought to undo the merger, which he called a "very expensive mistake."
Cohan also offered up a nomination for CEO: former IBM boss Lou Gerstner, who he said would bring a badly needed "fresh perspective."
Though HP board members praised Fiorina, her departure came after a highly public struggle over whether to continue on a course she'd set or change directions.
Analysts, meanwhile, said Fiorina's legacy at HP would depend largely on what happens after she leaves. They ascribed the move to a combination of factors, ranging from Fiorina's unwillingness to change the CEO's role at HP to lingering effects of the Compaq merger and the rapid rise of Dell as a competitive threat.
Operational Issues
Enderle Group principal analyst Rob Enderle told the E-Commerce Times that the resignation came about because Fiorina might have under-estimated the board of directors' resolve to improve operations at HP.
"There were too many internal problems coming up. The board was behind the strategy but they were disappointed with the execution, and Carly was unwilling to dilute the office of the CEO to address this problem," he said. "The board made it an order, and she resigned. I don't think it had to come to that and it did, I think, because she misread the board."
The $21 billion Compaq acquisition has long been considered a risky move because it increased HP's reliance on PC revenue. That segment has seen profit margins plummet in recent years amid increased price competition. Fiorina argued that HP needed additional scale in order to thrive in the future.
Even some three years after it was consummated, analysts are still divided on whether the Compaq merger was a good idea.
More Trouble Ahead?
"This is long overdue," Bentley College Finance Professor Leonard Rosenthal told the E-Commerce Times, speaking of Fiorina's ousting. "Fiorina acquired Compaq to make a statement — showing that she could make a strategic move. Unfortunately, this was a value destroying merger, it was more about making a splash than doing something increasing shareholder value."
However, Enderle said some opportunities to streamline HP and take better advantage of cost synergies after the merger might have been missed, a problem exacerbated when Compaq CEO Michael Capellas departed sooner than planned. "My view is they had a great opportunity to really streamline HP during the merger and didn't execute on that, partially because of Michael C's early departure, and this chicken came back to roost in an ugly way," Enderle said.
The battle over the merger was a vicious one, with some family members of the company's founders waging a proxy war aimed at shepherding votes against the acquisition. That effort failed, as did legal challenges to stop it.
At times since, the merger has seemed like a winner. Late in 2003, HP managed to post profits across all of its business units for the first time since the takeover, prompting some to speculate that HP had begun to find the hidden synergies in the deal.
In terms of PC sales, HP propelled itself to the top of the worldwide sales ranking by buying Compaq, but has since been toppled from the perch by Dell. In more recent quarters, Dell has solidified its leadership position in PC sales as it sells to more businesses and continues to be a favorite among consumers.
Some analysts say Fiorina suffered because she was unable to duplicate the success that Dell has had in continually lowering prices while maintaining or even growing profits.
Paying for Taking Risks
Larraine Segil, who advises on mergers and acquisitions for Vantage Partners, said Fiorina appears to have eventually been forced to pay for taking risks and doing "what was unpopular."
Segil told the E-Commerce Times the departure is also a blow because Fiorina is one of the most recognizable women in business and one of the few female CEOs in the technology industry.
"What a hugely disappointing move for women in high places," Segil said. "Carly is a woman of substance, vision and capability. Is she stubborn? Perhaps. She is convinced that her approach needs time to work and wanted unrestrained commitment by a board to support that for the long term."
Segil predicted a period of "great discontinuity" for HP as it searches for a new CEO. The surge in the stock is "all about perception," she added. "Wait until the dust settles. There is still the painful management process of a large, complex and disjointed organization."
And, she added, a year's worth of turmoil and "treading water" will mean more opportunities for Dell and IBM to target HP's customer base.
Enderle, meanwhile, said Fiorina's legacy will almost certainly be tied to the merger, including likely making it more difficult for other CEOs to pursue similar high-profile mergers and related strategies. Other companies — and other CEOs locked in battles with their boards — can learn from the debacle, too, he added.
"It should showcase the need for balanced CEO, one that has skills in all critical areas, and if the individual doesn't have all of those skills, then a team at that level that can fill the holes," he said. "It should also showcase that the board is back as a power in corporate America and that CEO ultimatums will probably not work, at least in the near term, against a strong board any more."