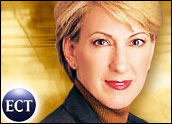 In an effort to downplay rumors that Hewlett-Packard will seek to beef up its consulting division by purchasing a major computer services company, such as EDS, HP CEO Carly Fiorina said she has passed on opportunities to make additional acquisitions. Instead, she said, she will focus on her company's ability to innovate and adapt to changing market conditions.
"I have been offered many opportunities" to buy firms such as EDS and large consulting companies, Fiorina said at the Executive Strategy Forum sponsored by Forrester Research. "I have walked away from them every time."
Moving Forward
HP, like rivals IBM and Dell, relies increasingly on service revenues. However, Fiorina, who engineered HP's highly controversial takeover of Compaq, said that making consulting-focused acquisitions would be "backward-looking" for HP.
"I think we have the opportunity to continue to be successful with the strategy we have put in place," she said, noting that the combined HP-Compaq has become the third-largest computer consulting company worldwide.
In fact, she argued that HP has refrained from pursuing too-rapid growth in the managed services sector, particularly in terms of how much outsourced work it takes on, in order to ensure it can deliver top performance on the contracts it already has won.
Not Like Rivals
Fiorina sought to contrast HP's approach to services deployments with the tactics taken by IBM and others. Specifically, she said HP seeks to partner with customers and is eager to bring third-party technology vendors into the mix if those vendors offer cheaper solutions that are easier to implement and use.
HP's services business has been growing rapidly, IDC analyst Danielle Levitas noted, due in part to a perception that if the company can successfully integrate its own US$19 billion merger with Compaq, it probably can handle other complex technology challenges as well.
"The services sector is where the merger has really paid off handsomely," Levitas told the E-Commerce Times. "Part of that is luck of timing, but it also says something about how well those parts fit together."
Still Waiting
Questions remain about the HP-Compaq merger on the product side, however, and HP has posted some disappointing quarters as a result of sluggish sales in some areas.
To counter that trend, the company recently released more than 100 new products, many focusing on its core strength of printing and imaging, and said it plans to follow that initiative with its largest consumer marketing campaign in recent history.
Dell, now HP's top competitor in many markets, staged a similar product blitz and has moved to cut costs on many of its products.