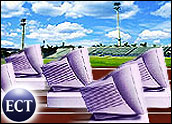 Fueled by sales of Intel-based computers and Linux machines, IBM has reclaimed the lead in the worldwide server market, ousting Hewlett-Packard from the top spot and extending its lead over onetime leader Sun, according to new data from research firm IDC.
Big Blue took control of just over 30 percent of the market for servers, which IDC estimated was worth US$10.6 billion in the second quarter of this year. In so doing, the company pulled ahead of HP, which held 27.7 percent, and more than doubled the market share of Sun.
Sun, the report suggested, has suffered because it moved less quickly than its competitors to offer a wide range of servers running not only Unix, but also Linux. IDC said Sun's revenue decreased by nearly 19 percent in the second quarter, while its market share slipped to 13.5 percent from more than 16 percent a year earlier.
Positive Signs
This jockeying for position came amid a strong overall quarter for server sales, according to IDC vice president Jean Bozman.
Bozman told the E-Commerce Times that the end of a lengthy, nine-quarter decline in server sales might indicate that the market's bottom has been reached.
"If nothing else, it probably means that enterprises are taking another look at their infrastructure and giving more consideration to large-scale upgrades," she said. "It will take more than a single quarter to paint a picture of a true rebound, but the signs are encouraging."
Still, large enterprises continue to hold back, with rising sales of servers in the under-$25,000 range suggesting that small and midsize enterprises are doing the most buying. "If the big companies join that trend, the server market will have a strong 2004," Bozman noted.
Rounding It Out
Behind Big Blue, HP and Sun, Dell held the fourth spot with 9.2 percent market share, followed by Fujitsu Siemens, rounding out the top five with less than 3 percent.
Regardless of rankings, however, it was clear that almost all of the companies involved in the report could spin the data in their favor. HP was quick to point out it held the lead in the fastest-growing segments of the marketplace, including blade servers, x86 servers using Intel and AMD chips, and machines running Linux and Windows. HP also led the way in sales of high-end servers, classified as those priced at $500,000 or more.
For its part, IBM no doubt welcomed the good news as it moved Thursday to expand a recall of some of its monitors. The company said it added 60,000 additional units to a voluntary recall program it launched in March after its G51 and G51t monitors, manufactured in partnership with LiteOn Technology, were shown to be a fire hazard.