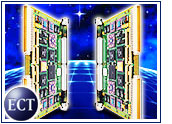 Blades are usually thought of in terms of slicing-and-dicing, as in knives, or movement, as in fans or propellers. Now, however, the term has taken on new meaning in the computing sphere. Whereas traditional servers are stand-alone devices, blade servers use a modular architecture that places the server on a single board, or blade, that includes processors (typically, one to four CPUs) and memory. The blades then are stacked together in a rack.
As the latest, most compact iteration of server technology, blades are becoming increasingly popular. "We see unit sales of blade servers ramping up pretty strongly," Mark Melenovsky, an analyst at research firm IDC, told the E-Commerce Times. Although blade servers currently represent just 1 or 2 percent of total server market share, Melenovsky said he believes they will capture 20 percent or more of server unit sales by 2007. Therefore, CIOs and others in a position to purchase servers need to take blade servers seriously. What do IT buyers need to know about these cutting-edge products?
Out of the Kitchen, Into the IT Closet
"The majority [of blade servers] are being used in high-performance clusters for complex computing," Melenovsky said. Still, blade servers are beginning to be used for more varied tasks than in the recent past.
Bob Van Steenberg, CTO at blade maker RLX Technologies, headquartered in The Woodlands, Texas, noted that when blade servers were first introduced two years ago, they were used primarily for Web hosting and other tasks that required relatively low-power processors and the ability to scale with ease.
That has changed. As blades have become more powerful, their domain has expanded to include more demanding applications, such as scientific and modeling applications, aircraft design, simulations, and bond and stock portfolio analysis.
"Blade servers have a pretty broad customer appeal. They're used in manufacturing, energy, retail and financial," commented Sally Stevens, director of marketing for blade servers at Hewlett-Packard (NYSE: HPQ).
How Blades Measure Up
Blades offer several benefits. They are positioned in racks, which are usually measured in units designated by the letter "U," with one U being 1.75 inches high and 19 inches wide. In a traditional server framework, one U usually holds a single processor. Not so with blades. Stevens told the E-Commerce Times that her company can fit as many as 280 blades into a 42U rack, reducing space requirements by a ratio of more than 6 to 1.
Stacking blades in a rack produces economies of scale by allowing sharing of power supplies, cooling systems and network access, and cutting down on the need for floor space. According to Stevens, cabling can be reduced by up to 80 percent compared with a general-purpose server.
Blade architecture also simplifies the tasks of adding and subtracting processors to and from a server, and blade servers generate less heat. According to Sun Microsystems, a typical (non-blade) 1U server consumes up to 100 watts of power, versus just 15 to 40 watts for a blade server.
Easier To Manage
Blades also enable better use of hardware. During peak demand, they can be used for one function, then rolled over to another as demand shifts.
These machines might be designed for either general-purposes or specific needs. For example, a blade geared toward security can be preconfigured with a firewall, security software and a virtual private network.
Scalability is yet another big plus. "Because you're buying incremental pieces of capacity, you can scale up infrastructure incrementally," Melenovsky noted. "Before, adding lots of small servers made management harder, but not with blades."
Paul Barker, vice president of marketing at RLX, made a similar point, saying that with traditional servers an administrator can handle about 30 to 50 devices, but that same person can manage 250 to 400 blade servers. "You can save 25 to 80 percent of your labor costs for server administration," he told the E-Commerce Times.
Seek More Than a Sharp Edge
Not all blade servers are created alike, however. When buying such technology, an IT manager should evaluate the software management that comes with it. Good software will automatically deploy and configure additions and deletions of blades, minimizing the need for manual configurations. It is also important to have enough headroom in the rack to accommodate increased needs. "Every time there's an upgrade, you want your architecture to take you into the future," HP's Stevens told the E-Commerce Times.
Buyers also should strive to match their blade servers to their needs. IDC's Melenovsky noted that if a company's IT department is running, say, static Web pages, it needs a blade server with minimal capacity, but if it is running an Oracle database, it might need a blade with multiple processors.
Specifically, he said a server with one processor per blade can be used as a Web server, for security, or for high-performance applications whose associated tasks are easily divisible across blades. Two-processor blades are used for even higher-performance tasks, such as e-mail or Microsoft Exchange. Four-processor blades, which are still relatively rare, are used for such functions as database servers.
He noted that RLX focuses on high-performance, single-processor blades, while IBM has focused on two-processor machines and market leader HP's offerings range from one to four processors. Dell has entered the market as well and is becoming an important player, and there are several smaller vendors, such as Rack Saver of San Diego.
Lower administrative costs, easy scalability, small space requirements, better sharing of components and standardization all are factors helping to increase the market share of blade servers. Blades are no longer relegated to the toolkits of seaside whittlers; CIOs are using them, too. Taking the time to choose the right blade can help a company hone its IT edge.