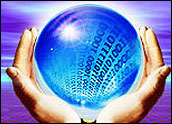 One of the most important trends in today's data storage market will seem remarkably familiar to any longtime industry-watcher: ATA drive technology is catching on like wildfire in a forest of dry timber.
The original version of ATA, or Advanced Technology Attachment (also called IDE), has been around for many years, in countless millions of users' desktop computers. Now, a new and improved incarnation of the technology — called serial ATA, or SATA — has surfaced.
"Serial ATA is the wave of the future," said Rob Schafer, a program manager at research firm Meta Group, in an interview with the E-Commerce Times. "ATA drives will transform the economics of disk storage, eating into tape [technology] and, to a lesser extent, optical."
Likewise, Marc Padovani, a junior product planning manager in storage at Dell Computer, predicted, "SATA will become more prolific in the beginning of the next year."
Storage Sweet Spot
To understand why ATA is poised to take off, it helps to comprehend its place in the data-storage hierarchy. The fastest, most reliable and best storage can be obtained from solid-state and fibre-channel technologies. However, this high performance comes at a high price, and many customers are not willing to pay the required cost.
On the other end of the spectrum, tape occupies the bottom of the hierarchy. It is dirt cheap but extremely slow. In the storage arena, at least, low cost equals low performance.
In the middle of the price-performance curve is disk technology, which is where ATA comes in.
Standard ATA — the kind powering many consumers' hard drives — uses parallel connectivity. In contrast, serial ATA is a new standard for connecting hard drives to computer systems. It is faster and better than its parallel predecessor, and it is making inroads into areas where ATA was never before welcomed.
In addition, serial ATA costs about one-third to one-half as much as higher-performance technology, such as SCSI. It does not perform as well as SCSI or fibre channel, but its performance is now good enough to be adequate for most purposes.
"There's certainly a requirement for very high performance and very high reliability, but if you look at the majority of users' data, you don't need that, so why should you pay for it?" Schafer said. "Our research says that less than 30 percent of all storage requirements really require a [high-end solution]."
SCSI's New Look
ATA is not the only established storage technology getting a facelift. Earlier this year, the high-performance SCSI standard got one, too. iSCSI, which stands for Internet Small Computer System Interface, is an Internet Protocol-based storage networking standard.
"iSCSI is emerging as an intriguing technology," Dell's Padovani told the E-Commerce Times. "Its primary benefit is reducing the cost of doing network storage or block storage by providing an alternative or even a complement to fibre channel."
As Gartner research vice president Robert Passmore told the E-Commerce Times, "What we expect to happen is over the next 6 to 12 months, almost every vendor in the storage business [will] announce products that use the iSCSI protocol." He went on to say that iSCSI "promises to dramatically reduce the cost of the connection to the SAN (storage area network), but at a lower performance."
Padovani also noted that he is seeing companies starting to link different types of SANs. This task is not easy, which is why he believes yet another trend will surface, this one toward interoperability. "I think over the next year you are going to start to see vendors collaborate more on making it easier for customers with storage solutions from different vendors to manage from a central location," he said.
Management Trends
Interestingly, one trend in storage today has nothing to do with technology. There is an ongoing need for more storage capacity being driven by, among other factors, federal regulations. For example, the Sarbanes-Oxley Act requires corporations to save an enormous amount of data that they did not previously store.
The Health Insurance Portability and Accountability Act (HIPAA) tries to standardize electronic health care transactions. As a result, companies are actively seeking relatively inexpensive ways to save and retrieve significant amounts of data, fueling the move to "good enough" technology like SATA.
Indeed, enterprises' increased need to store and manage data has created a new term in the storage industry: information lifecycle management, or ILM. Hewlett-Packard recently introduced an ILM initiative, and EMC and IBM are already in the hunt. While there is no set definition of ILM, it generally includes a comprehensive approach to storage, including data storage, retention, management and retrieval, and matching a company's changing needs for certain data to various storage technologies.
For example, ILM can help dictate the hardware and network software that determines how, where and in what type of storage e-mail or spreadsheets are housed over the course of their lifespan. "We're starting to see a number of companies putting together stories under this name umbrella," Gartner's Passmore noted.
What's Hot Is Not
However, one otherwise-hot technology seems to be stone cold in the storage sector: wireless. All of the experts the E-Commerce Times spoke with say wireless is not currently a major factor in data storage — and it is unlikely to become one in the foreseeable future.
Instead, Passmore said he sees another trend that is more focused on management than on technology, namely the formation of dedicated storage management groups.
"The storage management group is chartered to deliver storage services to the rest of their enterprise," he said. Such groups, which are mainly a large-company phenomenon, typically are composed of technologists who previously were involved with storage on a part-time basis while also performing other duties, such as system or database management. The difference is that these people now are managing storage full-time, providing a testament to the importance companies are placing on storage.
Indeed, perhaps that emphasis is the most notable storage trend of all.