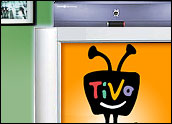 TiVo reported today that it added approximately 288,000 total subscriptions in the second quarter, more than triple the number it added in Q2 of last year. According to TiVo, the company's total installed base has more than doubled to approximately 1.9 million in the past twelve months.
Service revenues for the quarter increased 77 percent to $24.3 million, compared with $13.8 million for the three months ended July 31, 2003. Net loss for the quarter was $10.8 million, or $0.13 per share, compared to a net loss of $4.4 million, or $0.07 per share for the three months ended July 31, 2003.
The increase in net loss and net loss per share for the quarter reflects TiVo's previously announced investment in subscription acquisition activities to accelerate growth during fiscal year 2005, the company said in a statement.
In the first half of fiscal year 2005, TiVo added approximately 552,000 total net subscriptions, a growth of approximately three times compared to the six-month period ending July 31, 2003.
Of the 288,000 net new subscriptions added in Q2, approximately 225,000 are DirecTV with TiVo subscriptions, or about four times the number of new DirecTV with TiVo subscriptions added in Q2 of last year. DirecTV with TiVo subscriptions now total more than one million.
"Everything we've done in the first half of the year is setting us up for the significant growth we expect in both our TiVo-owned and DirecTV with TiVo subscriptions in the second half," commented Mike Ramsay, chairman and CEO of TiVo.
"We're committed to growing our standalone business, and the investments we've made in low cost products and expanded distribution, coupled with the new $99 price point are keys to our growth in the second half of the year and beyond."
In March, TiVo announced plans to invest up to an additional $50 million in subscription acquisition during the year. This plan is expected to result in a doubling of the total subscription base during this fiscal year to approximately 3 million subs, and to position the company for sustainable profitability by the end of the next fiscal year.
Founded in 1997, TiVo helped create a new category of products with the development of the first digital video recorder (DVR).