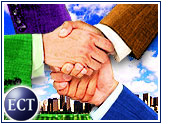 When the Washington Alliance of Technology Workers (WashTech) opened itsdoors five years ago and started talking to high-tech professionals to gaugetheir interest in joining a union, many treated it as a joke. Now, with offshoreoutsourcing taking off and repercussions from years of layoffs hitting home, noone is laughing anymore.
Although unions traditionally have been a tool of blue-collar workers, amovement toward organizing high-tech, white-collar employees is gatheringsteam.
Is it possible that the time has come for a high-tech union?
Birth of a Union
WashTech did not start as an organization out to change the industry.Rather, it was founded solely to take on Microsoft.
A group of Microsoft temps were frustrated by their long-term "permatemp"status, which defined them as contract workers and independent contractorswho did not receive benefits. After the group formed WashTech to take onMicrosoft, it began to address similar concerns at other companieslike Boeing and Amazon.
Now, the organization has become the most visible high-tech union in the UnitedStates. Although its membership rolls are still small in comparison with otherunions — there are just 400 members — interest in the group's actions hasskyrocketed.
WashTech president Marcus Courtney told the E-Commerce Times that in the first three years of the group's existence, the number of subscribers to its e-mail newsletter held steady at about 2,000 readers. In the last year, that tally has increased to 17,000.
Poised To Grow
With some help from a larger sibling, the group may grow even more inthe near future. It is now partially funded by a grant from the CommunicationsWorkers of America (CWA), the country's largest communications and media union,with more than 700,000 members. The grant is designed to help WashTech boostits membership numbers and get more exposure.
For his part, Courtney predicts that today's shifting high-tech landscape andcontinuing employment concerns in the industry should help WashTech see acontinued boom in interest. "We're visiting all parts of the country,from Silicon Valley to Boston," he said, "and we're really startingto see high-tech workers begin to organize at a national level."
Perception Problem
To succeed, however, tech unions will have to overcome a major obstacle intheir recruiting drive: image.
John Challenger, CEO of Challenger, Gray & Christmas, told the E-Commerce Times that unions have been part of the manufacturing environment for solong that many people associate them with blue-collar workers.
"As manufacturing loses its primacy in the U.S. economy, many have wonderedif unions can make the shift to a modern economy," Challenger said. "So far,there's been no indication that any union has been able to gain a footholdin the service or technology sectors."
He added that the personalities of many tech workers also could be a barrierto success. Technology workers tend to change jobs often, Challenger explained,and they like having a sense of autonomy. As a result, having a union to helpfight for job security may not be as important to tech-industry workers asit would be to those in other fields.
"I'm not sure job security and long-term contracts are things that theunions could convince tech workers they really want," he said.
The Changing Tech Worker
Unions, however, tend to believe the job-hopping, independent techie is apersonality type fading as fast as the memory of Pets.com.
"I think for a long time high-tech workers have been technologically savvybut socially naive; they thought their knowledge was enough to maintain goodjobs," said Mitch Besser, co-founder of ORTech, a technology group that is not a union but is closely associated with the CWA.
As an example, he related the story of an Intel staffer who was putting in14-hour days and was asked to quadruple his productivity or lose his job tosomeone in Malaysia.
"It used to be a badge of honor, to work long hours like that," Besser said."But things are changing. People are starting to want more of a life outsideof work."
He added that many once-youthful dot-com workers are now at an agewhen marriage and children have entered the picture, making long daysand weekend work less of an option.
Employer Hurdles Ahead
Beyond trying to convince high-tech professionals to wear the union label,organizations geared toward union staples like collective bargaining willface a chilly reception from corporate management as well.
Courtney noted that he has seen virulent anti-union sentiment in nearlyevery boardroom he has visited, and he thinks the situation is not likelyto change anytime soon.
"They're all the same," he said. "They all have the same playbook, and theyhave billions to defeat us. One of the barriers to our success is the perceptionon the part of employees, but another barrier is definitely that management hasmade them afraid of us."
He added, "Employers have waged a war against unions, but workers have aright to organize."
Besser of ORTech also has been met with hostility by employers, but there hasbeen a level of understanding as well. "I've had some employers say they seeunions as an abomination, but they add that they understand why high-techworkers would want one," he noted.
In fact, this realization that high-tech professionals are unhappy with what ishappening in the industry is very much felt by some corporate managers, Bessersaid. "I think they see these unions as a wake-up call."