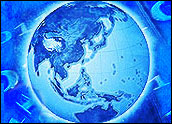 A high-tech workers union that keeps close tabs on Microsoft claims the software giant is on the verge of transferring scores of U.S.-based call-center jobs overseas, a move certain to reignite debate about overseas outsourcing.
The Washington Alliance of Technology Workers, or WashTech, said current workers are being warned that their call-center jobs may be terminated. The group, citing sources inside the company, said as many as 800 U.S. workers could be affected.
Hiring and Firing
A Microsoft spokesperson could not be reached immediately for comment, but the company has acknowledged the opening of a test call center in India in April and has said it will evaluate that site's performance before deciding how to proceed.
Microsoft also has said that although it is ramping up hiring in India, with plans to add up to 150 workers there this year in engineering and support fields, it also intends to hire more workers in the United States.
However, WashTech said the implications of the various moves seem clear: Microsoft appears poised to follow the lead of other firms that have shifted jobs to India and elsewhere, reaping cost benefits and in some cases gaining a geographical edge in dealing with certain international markets.
WashTech and other workers' groups have been calling on Congress to investigate outsourcing practices, but lawmakers to date have chosen a laissez faire approach. Workers also have raised flags about the number of technology jobs held by overseas workers in the United States on temporary visas, which were widely used to help alleviate a tech worker shortage during the dot-com boom.
On the Cusp?
Most technology analyst firms believe the pace of outsourcing will increase and say that most efforts to date amount to experiments or outposts that can grow substantially. When making a decision about whether or not to ratchet up overseas operations, companies are considering more than just cost, Yankee Group program manager Andrew Efstathiou said.
"Most companies that have done it have gone slowly, starting with joint ventures or partnerships, rather than jumping in with both feet," Efstathiou told the E-Commerce Times. "The positive results are probably prompting more companies to think about doing more, but they always have to be wary of backlash."
Familiar Ring
WashTech has been in and out of the news as a watchdog of major players in the technology and Internet industries in the Pacific Northwest.
It made a major push to unionize Amazon.com workers in 2000 and blew the whistle on what it claimed were unfair labor practices as Amazon cut jobs to trim costs a year later.