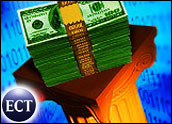 In some industries, it is easy to tell who is at the top of the heap. Theoffice software realm has Microsoft, the beer world has Budweiser, and formuch of the cola-loving planet, Coke is it. Among online brokerages, however, crowning a king is not so simple.
Although success can be measured by most trades or most assets, these can bemisleading distinctions when trying to select a clear winner. The reason isthat the potential candidates have strengths and identities as varied asthose of recent American Idol finalists Clay Aiken, Ruben Studdard andKimberley Locke.
Unlike industries in which companies tout virtually identical products, firms in the e-brokerage arena have evolved in different directions, with each company building on its unique focus and offering distinctive services.
Because of this phenomenon, the e-brokerage scene is populated by a pantheon ofidols rather than a single shining star. Schwab, Fidelity, E*Trade, Ameritrade, Harrisdirect and TD Waterhouse represent a new constellation of business models that have morphed significantly since e-brokerages' early days — and that are likely to keep changing over time.
Bubble Meets Brokerage
When the Internet first began to be used as a consumer tool for moneymanagement, online brokerage services sprang to life along with it.
Shaw Lively, a research manager at IDC-owned Financial Insights, told theE-Commerce Times that there was rapid growth in the number of playersat first, stunning amateur traders with a wealth of options.
However, as some e-companies faltered and consumers hungered for otherservices, online brokerage firms changed.
"Many of those in the industry merged with each other or reinventedthemselves," Lively said. "It became a very consolidated market."
Survival of the Fittest
Today's most well-known e-brokerages had vastly different starting points.Brick-and-mortar players, such as Fidelity and Schwab (NYSE: SCH), jumped online as theInternet boom picked up speed and began to compete with pure-play e-brokeragefirms like E*Trade and Ameritrade (Nasdaq: AMTD).
Although these e-brokerages came from several different backgrounds, they all adopted thesame model for a time, according to David Schehr, research director at GartnerG2.However, he told the E-Commerce Times, they have now veered away from eachother again.
"Each of the leaders evolved to have different models," Schehr said. "Thecompetition was initially driven by price per trade because everybody wasbuying stocks. Then they started moving into providing content or advice.
"I don't think it was a conscious decision that each set out to become differentfrom the others," he added, "but I think they looked at their core capabilitiesand figured out how to play up the strongest attributes of their businessmodels."
Paths Less Traveled
As e-brokerages began changing their services, the choices available toconsumers became much more diverse.
Schwab chose to supplement its online trading capabilities with advice andresearch reports, and it shifted some focus to its branch offices. Fidelitybolstered its offerings by concentrating on perfecting its call centers.
TD Waterhouse's strategy is somewhat between Schwab's and Fidelity's, as itstrives to offer both advice and customer service, while Harrisdirect has workedto tie its online arm more closely to its offline personal banking operations.
Meanwhile, the top two pure-play online brokerages, E*Trade and Ameritrade,have diverged, with the former greatly expanding its banking products and thelatter sticking to its original model.
Ring Tone
Schehr's suggestion that e-brokerages embarked on these varied paths as a resultof different priorities, rather than a conscious effort to differentiatethemselves, is backed up by several of the brokerages.
As Fidelity spokesperson Dan Flaherty told the E-Commerce Times, "We made acalculated business decision to improve integration between the website andthe call center."
Indeed, Fidelity streamlined its online operations to blend the two areas morefully. "They've created a very unified experience," Lively said. "They'vegiven their call center representatives the ability to help customers viaonline means."
Thanks to instant messaging and browser sharing, Fidelity reps can help clientsvia Web, phone or, with increasing frequency, both at the same time.
Lively added, "Although they have physical offices like Schwab, they'vedecided to focus less on that the way that Schwab has, and put a lot oftheir focus on the call center and website combination."
Advice Column
Rather than throwing most of its energy into competing with Fidelity's customerservice, Schwab has focused on beefing up its research and education offerings.
"Clients were asking for more advice, because they'd had bad experiencesfrom not being diversified enough," Schwab spokesperson Sondra Harris told the E-Commerce Times. "They realized that the stock trading business isn't quite as simple as it seems; there's a great deal to know."
The company began offering independent research and equity ratings that wereeasy for even a novice trader to follow. It also created a search engine to allowclients to research stocks by using complex, layered questions that can lead to acustomized table.
"We've put a very strong emphasis on education," Harris said.
Slippery Definition
As the new e-brokerage idols build out their business models as they see fit, theend result may be the loss of more and more common ground.
In fact, GartnerG2's Schehr said, "Most people wouldn't even refer to them ase-brokerages now, because that implies there's a one-channel operation, andthat's not the way it is anymore."
Instead, the mechanics of trading have become only a single component ofmost e-brokerage firms. They are strategizing ways to support client decision-makingand bolster the number of users by building on what each perceives as unique strengths.
"Who's the best?" Schehr said. "They've all grown so different from eachother that the question can't really be asked, much less answered."