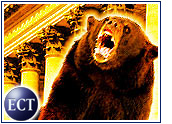 Discount brokerage Charles Schwab (NYSE: SCH) has announced it will lay off 1,800 more workers, and pure-play competitor Ameritrade (Nasdaq: AMTD) plans to alter its pricing structure, as online brokerages scramble to deal with a substantial slowdown in business.
Schwab said the new layoffs will amount to a 10 percent reduction in its workforce, reducing its total employee base to just under 19,000, well off peak levels of more than 26,000 in 2000. CEO David S. Pottruck said the cuts, along with pullbacks in advertising spending and other budget trimming, will save the company US$225 million per year.
Pottruck added that while a 25 percent slowdown in trades between July and August was expected for seasonal reasons, "trading volumes remained muted during the first two weeks of September."
Higher Prices
Meanwhile, Ameritrade, which last week closed its acquisition of Datek Online, giving it one of the heaviest trading volumes in the business, has announced it will change its fees.
The move, which will establish a $10.99 fee for all trades, represents a price hike for customers who have been taking advantage of the firm's $8-per-trade prices introduced in 2000. On the other hand, the new fee represents a price reduction for some users.
Ameritrade chief marketing officer Anne Nelson said the change was designed to simplify the fee structure and enable the company to avoid levying "handling fees," which are charged by some brokerages on larger orders.
Changing Landscape
The online trading landscape has been in flux since the lengthy bull market run ended in 2001. Nearly all of the large e-brokerages have experienced layoffs. Moreover, after an outcry among investors last spring, E*Trade reworked the contract of CEO Christos Cotsakos, reducing his compensation package by some $25 million.
Some analysts said they believe traditional brokerages that have invested heavily in online trading platforms, such as Fidelity and Schwab, are best positioned to recover along with the stock market. But others believe some of the pure plays have made the right moves during the downturn.
Poised for Recovery
Morningstar.com analyst Rachel Barnard said that although Schwab rose to prominence in the late 1990s, it has since been surpassed in many ways by E*Trade and Ameritrade, which offer lower per-trade prices. Ameritrade, she noted, has moved to consolidate its holdings around its $1.3 billion Datek acquisition, which, earlier this year, briefly made it the largest online brokerage.
"Ameritrade looks like a survivor," Barnard told the E-Commerce Times, "though it's clear it's going to be a while before any of the brokerages can point to a turnaround."