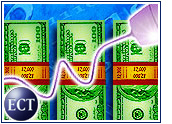 E-commerce will grow "whether the economic recovery is around the corner or a couple years off," according to a study released Wednesday by Forrester Research (Nasdaq: FORR).
Forrester, which surveyed approximately 9,000 online shoppers for the study, said that e-commerce will continue to thrive because most Web buyers are in high-income jobs not affected by the weak economy.
"The good news is that the 16 percent of online consumers [who] have already decreased their household spending only make up 14 percent of total Net sales," Forrester analyst Christopher Kelley said. "Demographically speaking, they are not the most prominent consumers because they have the least amount of money to spend."
E-tail Saves the Day?
The report found that many people have already cut back on spending in response to the already weak economy, but plan to continue spending at current levels.
In fact, the recession could push more people to the Web as they seek ways to pinch pennies, according to Kelley.
"Consumers know that the Web is one of the places to get a good deal," Kelley told the E-Commerce Times. "It's one of the top reasons people buy online. As people start to tighten their financial belts, they're going to turn to the Web to find the best deals they can — especially as you get into the holiday season."
Affluent Unconcerned
Meanwhile, 48 percent of the shoppers surveyed — a segment that accounts for 52 percent of e-commerce spending — said they were not concerned about the economy. Those optimists, Forrester said, are "relatively affluent" and therefore "more attractive" to retailers.
Another 36 percent of shoppers surveyed — accounting for 33 percent of e-commerce spending — said they are cautious, but have not yet decreased their household spending significantly.
The 19 percent of Web buyers "highly affected" by the economic slump "are ambivalent toward technology at best and are less likely to turn to the Web as a preferred shopping channel," said Kelley.
Travel Turnabout
One ironic twist: Online travel, which had been the lone bright spot in the past year's e-commerce slump, has turned into "the biggest threat to e-commerce," Forrester said.
"When the economy starts to decline in general, people are going to cuttheir travel spending," Kelley said. "It's something extra."
A decline in computer hardware and consumer electronics purchases could also hamper overall e-commerce spending, according to Forrester. Purchases of entertainment products like CDs might also decline, but that would have less of an impact because those items are "not big revenue generators," Forrester said.
Sticking by Forecast
Forrester predicts online retail spending will top US$74 billion in 2002, though Kelley said that forecast may change if the U.S. finds itself in a prolonged recession — or "makes a miraculous recovery." Online spending will be about $51.5 billion in 2001, according to Forrester.
The firm also projects holiday spending will total $11 billion this year, up 10 percent from a year earlier.
"If things worsen in the coming year, consumers will tighten their budgets further, but e-commerce still won't shrink," Kelley said. "Conversely, if the current economic storm passes early, e-commerce will experience substantial growth in 2002."