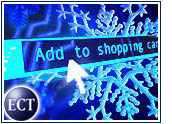 Online shoppers will spend approximately US$11.9 billion dollars during 2001 holiday season on Web retail and travel — an 11 percent increase over last year's $10.8 billion dollars, according to a report released on Wednesday by Internet measurement and analysis firm Jupiter Media Metrix (Nasdaq: JMXI).
Although growth this season will be slower than last, Jupiter analysts expect to see 10 million more people shopping online or 46 million in 2001, up from 36 million in 2000. Consumers will allocate a greater percentage of their holiday budget to online shopping, the report predicts.
"As traditional retailers brace for a holiday shopping season fraught with uncertainty, online retailers are facing quite the opposite — the first fairly predictable holiday season," said Ken Cassar, Jupiter senior analyst.
Cassar believes that the attacks of September 11th will have "a net zero impact on online retailers."
"Because fewer Americans will travel via air this year, and those that do will be less likely to carry armloads of packages through tight airport security, there's an increased likelihood that consumers will buy from online and catalog retailers. However, any benefits that this creates will be offset by the negative economic impact of the attacks," Cassar said.
Women and Men
Women will spend more money online than men this holiday season for the first time, but that should not prompt e-tailers to change strategies, Jupiter Media Metrix said in the report, which was titled "Holiday Shopping 2001: Only an Ordinary Frantic Holiday Season."
Though on average, men still spend more online, 53 percent of Internet shoppers this holiday will be women. And for the first time, they will spend more as a group, the report said.
But Jupiter said e-tailers should not alter their approaches to capture the growing female market. According to the company, "the factors that drive women to buy online are very similar to those that bring men to buy online."
Balancing Act
Although Jupiter predicts the number of online holiday shoppers will grow this year compared with last, shoppers will spend less overall on gifts this year.
"The slowdown in online retail sales growth this holiday season is actually a blessing in disguise," Cassar said. "For the first time, online holiday sales will be somewhat predictable. Online retailers must appropriately scale their businesses to balance high consumer expectations with their own need to show a profit."
Advice Column
Jupiter had this advice to offer online merchants: Do not refer to the terrorist attacks of September 11th on the Web or in e-mail correspondence. Also, to calm fears about mailed packages, e-tailers should give gift-buyers the option of having their name appear on the outside of the gift box.
Jupiter also suggests that multichannel retailers aggressively promote their Web offerings as an alternative for harried shoppers.
Are PCs Cool?
As for hot categories, Jupiter sees little change from last year, with 40 percent of shoppers planning to buy books, 30 percent shopping for apparel and 29 percent purchasing toys.
The only category seeing a major drop was personal computer and accessories. Only 18 percent of consumers plan to buy in that category, down from 24 percent in 2000.
Those Were the Days
Most of the major Internet research houses seem to have come to similar conclusions about e-holiday spending. In short: The days of triple-digit growth have been replaced by more modest expansion in sales and continued growth of the overall buying population.
Forrester Research issued the first prediction, calling for an $11 billion holiday, an estimate that it stood by, despite the September 11th attacks and subsequent events.
Nielsen//NetRatings, which excludes travel from its research, recently predicted a $10 billion holiday.
Measure by Measure
Late last week, NetRatings announced it will buy Jupiter Media Metrix and combine the two firms' Web measurement divisions.
However, NetRatings also said it intends to maintain the Jupiter Research unit.