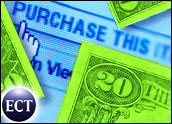 Contrary to speculation immediately following the September 11th terrorist attacks, fear of further violence is not keeping American shoppers out of stores, according to a survey released Monday by Goldman Sachs, Harris Interactive and Nielsen//NetRatings.
That spells more bad news for e-tailers, who already have to contend with a general slump in consumer spending as the all-important holiday shopping season gets underway.
While it is still early in the season — 69 percent of the consumers surveyed for the report have yet to buy a single gift — early indications are that consumers are not shifting their buying to the Internet, the survey found.
Just 5 percent of the shoppers surveyed in the two weeks ended October 27th said they will shop online instead of in stores this year out of fear of further terrorist attacks — not enough to offset the overall drop in consumer spending, according to Goldman analyst Anthony Noto.
E-Commerce Slump
The survey's results "reinforce our view for continued slowdown in consumer e-commerce," Noto wrote in a note accompanying the report.
Noto said his firm has just two e-tail stocks on its recommended list: Auction giant EBay (Nasdaq: EBAY) and flower-and-gift merchant 1-800-Flowers.com (Nasdaq: FLWS).
"Our survey indicates that consumers are not shifting their spending online at a faster rate this year than last," Noto wrote.
'Appeal Remains Limited'
The survey found that 78.3 percent of this year's holiday shopping will still be done in stores — down slightly from 79.9 percent last year.
Catalogs will account for 8.6 percent of all purchases, up from 8 percent last year, while online purchases will make up 13.2 percent of the total holiday spending budget, up from 12.1 percent in 2000.
"Online commerce appeal remains limited to the early adopters/technology enthusiasts, and the penetration of this new innovation has not reached the mass market," Noto wrote.
Smaller Increase
Noto estimated that online spending will grow 20 to 25 percent this year, compared with 68 percent in 2000 and 132 percent in 1999.
"We look for online spending to largely mirror the overall slowdown in economic activity," he wrote.
Last month, Jupiter Media Metrix calculated that consumers will spend approximately US$11.9 billion this season, up 11 percent from last year. Competing research firm Forrester, meanwhile, is looking for an $11 billion holiday.
Greater Satisfaction
Online shoppers noted a "nominal improvement" in satisfaction with the experience, the report found. Noto said he expects more consumers to weigh in with positive results as the holiday season shifts into full gear.
According to the survey, those who do plan to shop online cited price, selection and ease of use as the main factors behind that choice.
Goldman, Harris and Nielsen conduct their holiday e-spending survey every week throughout the shopping season, choosing 500 online shoppers each week at random. The survey tracks online shopping activity, spending by market segment and consumer attitudes.