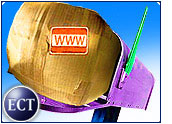 As if the shipping riddle weren't hard enough for e-tailers to solve, the world has added an almost unimaginable degree of difficulty in recent days.
Once a benign and even welcome part of the day, the mail and door-to-door deliveries have increasingly become the focus of anxiety and in some cases, outright fear. The news that anthrax killed two Washington, D.C. postal workers, who apparently only handled and never even opened one of the tainted letters, did a lot to flame those fears.
Of course, hand-written letters with suspect return addresses are one thing and packages from your favorite e-tailers something else, right? Maybe. But for how long?
Worse for Wear
We've all had the following experience. You go to the mailbox and fetch your daily delivery and somewhere in the pile is a package or letter that has been partially torn open on the way.
It's no surprise, given what mail goes through as it is moved from airplane to truck, sent through sorting machines, and dumped into bins before being jammed into your mailbox.
And until recently, that little tear was no big deal. In fact, I got a package last week like that from a well-known catalog and Web clothing retailer. My only concern was for what I knew was inside: Was it damaged? It wasn't.
What a difference a week makes. Now, people are worried because they don't know what's inside. Of course, I'm no Tom Brokaw or Tom Daschle, so I don't worry that much about what's in my mail. But every poll taken in the past few days shows Americans becoming increasingly wary. More and more fearful about what's coming in the mail.
Piling On
The fact that thousands of postal workers, members of the media, and the mayor of Washington, D.C., are being treated for possible exposure after they visited the area where the anthrax was found does nothing to calm those rising fears.
One thing is clear: While Americans will hopefully learn to look forward to mail delivery again, for all the potential it contains, mail will never again be seen as benign.
For e-tailers, that means doing nothing to add to that fear and doing everything possible to alleviate it. One analyst recently suggested that people buying gifts online might call their distant aunt to alert her a package is coming.
Who Pays?
Good idea. But better yet: What about a heads-up alert from the e-tailer itself? A postcard saying watch for this gift and while you're at it, check out our new packages, which we seal on the way out the door. If you suspect this packaging was tampered with, here's what you should do.
Yes, that costs money and no, I don't think the customer should have to pay for it. The fact is the world is changing, and adapting to meet the new needs of people is what will determine what will move forward and what will be left behind.
If e-commerce wants to come along, it should get busy.
Knock, Knock
Ironically, the initial reaction from many quarters to the events of September 11th was that people would want to stay home, shop through their computers and avoid the mall. Let the world come to them in small bytes. It was the beginning of a positive trend, for e-tailers anyway.
And it still is. But now inviting even a sliver of the world to your door means opening yourself up to letting in the worst the world has to offer.
So pouncing on the opportunity of catering to stay-at-home shoppers just got a little harder. More creative solutions are going to be required, but make no mistake: The opportunity is still sitting there for e-tailers, waiting to see if any of them have the guts to grab it.
What do you think? Let's talk about it.
---
Note:
The opinions expressed by our columnists are their own and do not necessarily reflect the views of the E-Commerce Times or its management.
---