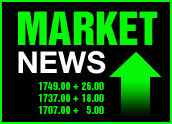 A report from the Conference Board suggesting that economic growth might be about to slow down heading into 2005 did little to deter stock market investors as all major averages were at least modestly higher today.
The Dow Jones Industrial Average gained 22.98 points, or 0.22 percent, to close at 10,572.55, while the Nasdaq climbed 4.60 points, or the same 0.22 percent, to 2,104.28. The S&P 500 climbed 1.61 points, or 0.14 percent, to 1,183.55.
Losing Steam?
The tech sector was under the microscope, with two major chip-related firms releasing starkly different outlooks.
Applied Materials said its first-quarter results would be off as orders had plunged as much as 35 percent. That contrasted with a far more upbeat outlook from Intel, with CEO Craig Barrett saying during a tour of India that Intel would have a "much improved performance" during the early part of 2005.
Also in tech land, Google shares ended down about 3 percent after the search engine warned in a filing that its growth was slowing.
The Conference Board reported today that the U.S. economy might be "losing steam," citing its index of leading economic indicators, which fell 0.3 percent in October, as evidence.
That marked the fifth straight month of a decline in the indicators, a compilation of data points that are the first to react to changes in the economy. The board said seven of the 10 indicators it tracks were lower last month, with consumer expectations making the sharpest drop.
Unemployment Data
Data on employment was mixed, with the number of people filing for unemployment benefits down slightly last week while the four-week moving average nudged slightly higher.
Meanwhile, oil prices fell again today after OPEC revised its estimate for worldwide demand this year. Crude oil futures trading on the New York Mercantile Exchange were lower by 62 cents, closing at 46.22 per barrel.